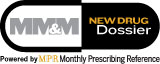 MM&M's New Drug Dossier combines promotional insights with clinical information to offer marketers the first complete online resource for newly approved drugs.
Entry kit available online February 11

The time is almost here to enter the industry's most distinguished awards program. MM&M Awards honor exceptional creativity and marketing effectiveness in healthcare. With a wide range of categories, you're sure to find the perfect fit to showcase your best work. Visit www.mmm-online.com/awards for more information and to download your entry kit.      
MM&M
offers the most relevant news, analysis, opinion, feature stories and special reports to nearly 15,000 marketing executives at pharma companies, agencies and in healthcare media.
Click here to subscribe
.
The
MM&M
News Brief provides news and features delivered direct to your inbox. To access the full text, simply click the headline.
If unbranded direct-to-consumer ads in support of Pfizer's Lyrica for fibromyalgia moved the needle on prescriptions, branded creative could boost uptake even more.
Sanofi Pasteur named Wayne Pisano president and CEO, replacing David Williams, who is retiring. He reports to Sanofi Aventis CEO Gerard Le Fur.
Sepracor has entered a licensing deal with Bial for the development and commercialization of Bial's anti-epileptic compound BIA 2-093 in the US and Canada.
Whether client or service-side, student or seasoned pro, one national trade group wants to to serve all of your educational needs.
AstraZeneca said it plans to seek FDA approval to sell an extended release version of its Seroquel XR schizophrenia drug to treat both manic and depressive episodes associated with bipolar disorder.
Sciele Pharma said the FDA has approved all four dosage strengths of the new Sular formulation, which utilizes SkyePharma's patented Geomatrix technology and provides a lower dose of Sular for each of its current doses.
Kimberly Ray has joined Eisai as senior manager, pharmacoepidemiology and risk management in medical services.
Merck and Addex Pharmaceuticals entered a deal to develop a drug candidate for schizophrenia, under which Merck will pay Addex up to $702 million in cash plus royalties.
When the going got tough, Merck got back to basics.
Eli Lilly & Co. spent $128 million promoting Cymbalta (duloxetene) for the year through August, according to IMS Health.
Since last year, when UCB, Inc. let users of its antiepileptic Keppra speak for the brand, patients have become an important visual and vocal component in all promotion.
Uncommonly good creative has helped standalone agency AbelsonTaylor stand out among its peers, garner acclaim and earn loyalty from clients.
On September 20, 2007, Sermo's founder and CEO Dr. Daniel Palestrant stepped up to the podium at the Health 2.0 conference in San Francisco and in less than three minutes summarized how his brainchild, an online community for physicians launched just a year earlier, has forever changed the healthcare media landscape.
With many of the industry's major blockbuster drugs coming off-patent in the next few years, pharmaceutical companies are scrambling to extend the life of their biggest brands. Larry Friedman, PhD, offers some potential solutions based on brand architecture and flow of brand equity