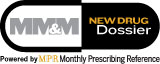 MM&M's New Drug Dossier combines promotional insights with clinical information to offer marketers the first complete online resource for newly approved drugs.
Entry kit available online February 11

The time is almost here to enter the industry's most distinguished awards program. MM&M Awards honor exceptional creativity and marketing effectiveness in healthcare. With a wide range of categories, you're sure to find the perfect fit to showcase your best work. Visit www.mmm-online.com/awards for more information and to download your entry kit.      
MM&M
offers the most relevant news, analysis, opinion, feature stories and special reports to nearly 15,000 marketing executives at pharma companies, agencies and in healthcare media.
Click here to subscribe
.
The
MM&M
News Brief provides news and features delivered direct to your inbox. To access the full text, simply click the headline.
The District of Columbia Council approved legislation on Jan. 8 that would require pharmaceutical sales representatives to obtain licenses to operate within city limits, The Washington Post reports.
Genzyme has entered into a $325 million licensing deal with Isis Pharmaceuticals to commercialize mipomersen, Isis' lipid-lowering treatment for high-risk cardiovascular patients.
Noven Pharmaceuticals, which manufactures Shire's attention deficit hyperactivity disorder patch Daytrana said it received a warning letter from the FDA related to a prior on-site inspection of its manufacturing facility in Miami.
The Medical Advertising Hall of Fame (MAHF) will induct Robert Baldini, John Corcoran and Richard Cliggott at a special celebration dinner on February 12 at the Pierre Hotel in New York City. The MAHF will also honor Audrey Girard with a lifetime achievement award and M. James Dougherty with a service to industry award.
Eli Lilly said the FDA has approved Cialis (tadalafil) for once daily use in 2.5 mg and 5 mg doses to treat erectile dysfunction (ED).
The board of directors of Draxis Health has appointed Dan Brazier as president and CEO effective Jan. 1.
Thomson Scientific, part of The Thomson Corporation, launched its Citation Impact Forum, an online forum promoting scholarly discussion about all facets of citation-based research evaluation.
When the going got tough, Merck got back to basics.
Eli Lilly & Co. spent $128 million promoting Cymbalta (duloxetene) for the year through August, according to IMS Health.
Since last year, when UCB, Inc. let users of its antiepileptic Keppra speak for the brand, patients have become an important visual and vocal component in all promotion.
Uncommonly good creative has helped standalone agency AbelsonTaylor stand out among its peers, garner acclaim and earn loyalty from clients.
On September 20, 2007, Sermo's founder and CEO Dr. Daniel Palestrant stepped up to the podium at the Health 2.0 conference in San Francisco and in less than three minutes summarized how his brainchild, an online community for physicians launched just a year earlier, has forever changed the healthcare media landscape.
With many of the industry's major blockbuster drugs coming off-patent in the next few years, pharmaceutical companies are scrambling to extend the life of their biggest brands. Larry Friedman, PhD, offers some potential solutions based on brand architecture and flow of brand equity