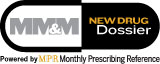 MM&M's New Drug Dossier combines promotional insights with clinical information to offer marketers the first complete online resource for newly approved drugs.
Entry kit available online February 11

The time is almost here to enter the industry's most distinguished awards program. MM&M Awards honor exceptional creativity and marketing effectiveness in healthcare. With a wide range of categories, you're sure to find the perfect fit to showcase your best work. Visit www.mmm-online.com/awards for more information and to download your entry kit.      
To find out about the MM&M Careers Section contact:
Scott Dattoli at 646-638-6015
MM&M
offers the most relevant news, analysis, opinion, feature stories and special reports to nearly 15,000 marketing executives at pharma companies, agencies and in healthcare media.
Click here to subscribe
.
The
MM&M
News Brief provides news and features delivered direct to your inbox. To access the full text, simply click the headline.
The decision by Sepracor to in-license the US marketing rights to inhaled corticosteroid Alvesco caps a four-year commercial and regulatory odyssey for the asthma drug.
The National Institutes of Health doles out billions to universities for research without ensuring grantees' compliance with federal financial conflict-of-interest regulations, a government report found.
Wyeth is considering a cost-cutting plan that may call for elimination of 10% of its workforce over the next three years, a company spokesman told MM&M.
The FDA needs to see additional data from Merck before approving an OTC version of the drugmaker's cholesterol-lowering drug Mevacor (lovastatin).
TNS Healthcare hired Ceri Thomas as EVP, global accounts, a new position.
The Medical Advertising Hall of Fame (MAHF) will induct Robert Baldini, John Corcoran and Richard Cliggott at a special celebration dinner on February 12 at the Pierre Hotel in New York City. The MAHF will also honor Audrey Girard with a lifetime achievement award and M. James Dougherty with a service to industry award.
Roche announced that the European Commission (EC) has given its approval for the wider use of Avastin (bevacizumab) in patients suffering from metastatic colorectal cancer.
TargetRx announced that Craig Scott has been appointed to the role of president and CEO, and he will join the board of directors, effective immediately.
Internet giant IAC, owners of online consumer brands including Ask.com, Evite, Ticketmaster and Citysearch, announced that it has acquired a minority stake in The HealthCentral Network.
When the going got tough, Merck got back to basics.
Eli Lilly & Co. spent $128 million promoting Cymbalta (duloxetene) for the year through August, according to IMS Health.
Since last year, when UCB, Inc. let users of its antiepileptic Keppra speak for the brand, patients have become an important visual and vocal component in all promotion.
Uncommonly good creative has helped standalone agency AbelsonTaylor stand out among its peers, garner acclaim and earn loyalty from clients.
On September 20, 2007, Sermo's founder and CEO Dr. Daniel Palestrant stepped up to the podium at the Health 2.0 conference in San Francisco and in less than three minutes summarized how his brainchild, an online community for physicians launched just a year earlier, has forever changed the healthcare media landscape.
With many of the industry's major blockbuster drugs coming off-patent in the next few years, pharmaceutical companies are scrambling to extend the life of their biggest brands. Larry Friedman, PhD, offers some potential solutions based on brand architecture and flow of brand equity