December 08, 2014
AbbVie oncology pipeline continues to show progress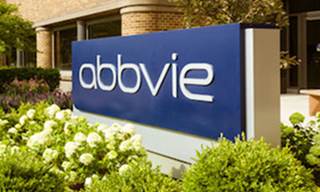 Humira is set to remain an AbbVie cornerstone for some time, but Phase II results and a management update recounted by Goldman Sachs analyst Jami Rubin indicate that the company expects pipeline prospects to surface.
The company announced at the American Society of Hematology's annual meeting Sunday that Phase-II results of its experimental immuno-oncology drug venetoclax, formerly known as ABT-199, showed a 15.5% overall response rate among acute myelogenous leukemia patients, with one patient reportedly going into full remission. Four of the 32 clinical trial patients were classified as "complete response with incomplete blood count recovery," a classification the company described as fulfilling "most—but not all—criteria to be classified as a complete response." [Update: AbbVie contacted MM&M after publication to note that response rate was in fact 19% -- the presentation was updated to include data for an additional patient.]
This news is in addition to AbbVie's roll-out Phase-1B venetoclax to supplement information that had been released earlier this year. Monday's data indicated the oral BCL-2 inhibitor triggered a response rate in about 86% of relapsed/ refractory/ CLL or small lymphocytic lymphoma patients when used as a single agent. Monday's data also noted that 13 patients routed out of treatment because of disease progression and that three left after "attaining complete remission." This prompted Evercore ISI analyst Mark Schoenebaum to send an email blast to investors asking "Is this a cure? Interested in your thoughts."
Goldman's Jami Rubin noted in December 2013 that venetoclax was an asset to watch, and noted in June that she considered it to be a treatment "emerging as best-in-class with expectations likely to rise." Rubin noted after a management update last week that the drugmaker considers the drug a cornerstone for the company's cancer treatments.
Rubin also wrote last week that AbbVie executives consider combination therapies particularly important for conditions like CLL "if they provide a depth of response that goes beyond single agent efficacy." The Phase-1B results also addressed pre-clinical trials in which ABT-199 was used with Genentech's Rituxan (rituximab) in a way that suggested the two "demonstrate synergy." Such a combination would provide Rituxan with a life beyond the US patent expiration date, in addition to boosting venetoclax's position.
Additional CLL data among patients with a p17 deletion is expected next year and Rubin said the data could prompt a 2015 CLL filing with the FDA. Positive results could make AbbVie's drug a competitor to the Pharmacyclics/Janssen drug Imbruvica (ibrutinib), which is indicated for these same CLL patients as well as mantle cell lymphoma.
Executives also indicated that Humira (adalimumab) will continue to provide cover for some time. Rubin wrote that Humira "is the only TNF that has demonstrated such a broad range of indications which provides it with a strong competitive advantage."
She also noted in her assessment that this market hold will likely last into 2019 or 2020, when the first first biosimilars may surface. This timeframe is in anticipation of legal wrangling: Humira's patent lapses in the US in 2016.
Scroll down to see the next article