January 16, 2008
Combigan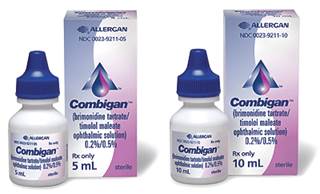 Combigan

Product
Combigan

Approval Date
October 30, 2007

Release Date
Fourth quarter 2007

Company
Allergan

Class
a2-agonist + noncardioselective ß-blocker

Indication
To reduce elevated intraocular pressure (IOP) in glaucoma or ocular hypertension where adjunctive or replacement therapy is warranted.

Active ingredient
Brimonidine tartrate 0.2%, timolol (as maleate) 0.5%; oph soln; contains benzalkonium chloride.

Agency Roster
Pacific Communications (professional)

Marketing Strategy/Execution
Combigan is a prescription eye drop approved to reduce elevated intraocular pressure (IOP), a leading risk factor for glaucoma and the only risk factor that can currently be treated. The drug is a combination of two older IOP agents, Alphagan and Timoptic, and as such takes a two-pronged approach. The only other fixed-dose combination product on the market is Merck's Cosopt. Promotion will seek to highlight Combigan's efficacy and tolerability, for which there's quite a bit of data.

The product will be positioned as an adjunctive therapy, using the slogan, "power meets comfort." Allergan's glaucoma sales force, which cut its teeth selling Lumigan and Alphagan, is reaching out to glaucoma specialists in the opthalmology and optometry communities. Media buys in eye care trade magazines, a presence at medical meetings and the website combigan.com are other tactics being used.

The Market
Miotics & Glaucoma Oth US sales ($000s) last 5 years

2006

$

1,492,270

2005

$

1,367,775

2004

$

1,277,845

2003

$

1,146,319

2002

$

1,005,387

Source: IMS Health, Jan. 2008

Top 5 miotics & glaucoma oth




Jan.-Nov. '07 US sales ($000s)

% sales growth over Jan.-Nov. '06

XALATAN (Pfizer)

$480,975

8%

ALPHAGAN P (Allergan)




$301,281

12%


LUMIGAN (Allergan)

$265,246

13%

COSOPT (Merck)

$213,726

8%

TRAVATAN (Alcon)


$170,206

-3%

Source: IMS Health, Jan. 2008


Also in the Pipeline (according to Adis R&D Insight)
Drug: AFP 168
Manufacturer: Santen Pharmaceutical
Indication: Glaucoma
Active Ingredient: Tafluprost
Phase: III

Drug: DuoTrav
Manufacturer: Alcon
Indication: Glaucoma
Active Ingredient: Travoprost/timolol
Phase: Preregistration

Source:Wolters Kluwer Health

Recent MM&M Coverage
Product News
Specialty Spiral
People news from the 09/12/06 News Brief

The Top 75: Pacific Communications

Pharmacology
Combigan contains two drugs widely used in the treatment of glaucoma: brimonidine tartrate and timolol maleate. Each of these drugs reduces elevated IOP. Brimonidine reduces aqueous humor production and increases non-pressure dependent uveoscleral outflow. Timolol is thought to work in part by lowering the production of aqueous humor, but its exact mechanism in the treatment of glaucoma has not been established.

Clinical Trials
The effectiveness of Combigan in treating glaucoma and elevated IOP was compared to that of the separate use of brimonidine tartrate 0.2% and timolol 0.5%. Combigan, dosed twice daily, provided an additional IOP-lowering effect of 1–3mm Hg over brimonidine dosed 3 times daily, and an additional IOP-lowering effect of 1–2mm Hg over twice-daily timolol during the first 7hrs post-dosing. However, the IOP-lowering effect of this combination drug, dosed twice daily, was less (by about 1–2mm Hg) than that seen with the concomitant administration of timolol 0.5% dosed twice daily + brim-onidine tartrate 0.2% dosed 3 times daily.

In a study of the concomitant use of brimonidine tartrate 0.2% 3 times a day as adjunctive therapy to ß-blockers in patients 2–7yrs old with glaucoma, the most commonly observed adverse reactions were somnolence and reduced alertness.

Adverse Reactions
Allergic conjunctivitis, conjunctival folliculosis, conjunctival hyperemia, pruritus, ocular burning/stinging, asthenia, corneal erosion, depression, epiphora, visual disturbance, headache, hypertension, dry mouth, somnolence, blepharitis, other local effects.

Adults
=2yrs: 1 drop every 12 hours.

Children
<2yrs: not recommended.

Contraindications
2nd or 3rd-degree AV block. Overt cardiac failure. Cardiogenic shock. Sinus bradycardia. Severe COPD. Bronchial asthma or history of.

Precautions
Discontinue at 1st sign of cardiac failure and before surgery. Mild to moderate COPD, bronchospastic disease: not recommended. Depression. Cerebral or coronary insufficiency. Raynaud's phenomenon. Orthostatic hypotension. Thromboangiitis obliterans. Myasthenia gravis. Renal or hepatic impairment. May mask hypoglycemia, thyrotoxicosis. Soft contact lenses (remove; may reinsert 15 minutes after instillation). Separate dosing of other oph drugs by =5 minutes. Pregnancy (Cat.C). Nursing mothers: not recommended.

Interactions
Avoid other topical ß-blockers. May potentiate, or be potentiated by, other CNS depressants, systemic ß-blockers, reserpine, quinidine, SSRIs, other CYP2D6 inhibitors. Caution with antihypertensives, systemic ß-blockers, MAOIs, tricyclics. May cause conduction defects (eg, prolonged AV conduction) with digoxin, calcium channel blockers (avoid concomitant use in impaired cardiac function). May block systemic epinephrine.