August 01, 2013
Consumer Marketing briefs: August 2013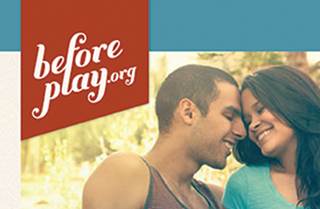 Vivus said that it's working with the FDA on a DTC advertising campaign for Qsymia, set to launch this fall. It made the announcement in a July proxy-fight statement. At press time, the fight had been settled, but new management had yet to comment on the plan.
The Colorado Department of Public Health and Environment working in tandem, unofficially, with the Colorado Initiative to Reduce Unintended Pregnancies launched the campaign beforeplay.org. The site (pictured), by Boulder-based agency Vermillion, serves as a hub for a statewide effort to help "normalize conversation around sexual health and wellbeing."
The National Association of Broadcasters (NAB) was set to unveil a PSA campaign to up understanding and awareness about mental health. Its teen- and young adult-focused campaign, and Tumblr-based social media platform OK2Talk.org,were set to debut in late July.
To coincide
with Migraine Awareness Month, Zogenix launched the Sumavel DosePro Migraine Toolbox. Provided to patients by their M.D., a carrying case contains a sample of Sumavel, patient education materials and a journal for tracking attacks, co-pay card and a product brochure.
Scroll down to see the next article