October 29, 2014
Five things for pharma marketers to know: Wednesday, October 29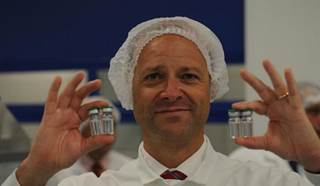 Viehbacher

After rumors of his departure, Sanofi CEO Chris Viehbacher has been fired, Bloomberg reported Wednesday. The Paris-based drugmaker's board voted unanimously to oust the embroiled CEO today. Chairman Serge Weinberg cited "management problems, problems of cooperation with the board and execution problems," on a call with reporters. Viehbacher's tenure will be remembered for the company's $20 billion acquisition of biotech Genzyme in 2011, whose own culture he wanted to adopt for Sanofi. Bernstein analyst Tim Anderson wrote in an investor note this morning that "the ups have generally exceeded the downs," and "our perception is that Viehbacher has had the support of the investment community more often than not."




Gilead reported that sales of HCV cure Sovaldi have fallen by 20% to $2.8 billion from the prior quarter, according to The Wall Street Journal. The Foster-City drugmaker's third-quarter earnings missed analyst estimates due to slowing sales of the blockbuster HCV cure as well as a fee required by the Affordable Care Act. Robyn Karnauskas, an analyst at Deutsche Bank, wrote that diminished Sovaldi sales were not unexpected due to the launch of HCV combo drug Harvoni and subsequent patient warehousing, according to Bloomberg. Gilead COO John Milligan said during the conference call that the drugmaker is "seeing a broader group of physicians writing Harvoni scripts than with Sovaldi."




Ranbaxy CEO Arun Sawhey told analysts on a post-earnings call Tuesday the company still has rights to heartburn drug Nexium, saying "we believe we have the (Nexium) exclusivity and we will launch the product upon approval," according to Reuters. Doubts have crept up in recent weeks about where the Indian drugmaker plans to manufacture the drug in light of FDA import bans on four of Ranbaxy's plants. The drugmaker's generic Nexium has already been delayed for five months.




Swiss regulators have approved testing of GSK's ebola vaccine, Reuters reported Tuesday. The 120 participant trial will include testing on medical staff who will be traveling to West Africa, and will be conducted by Lausanne University Hospital in conjunction with the World Health Organization. Trial volunteers will be evaluated for six months to determine the vaccine's safety and efficacy. GSK has said it may have 1 million doses of the vaccine available by end of 2015.


An FDA panel has recommend approval of a Daiichi Sankyo blood thinner for patients with atrial fibrillation, but has said the drug's use should be limited to those with abnormal kidney functions, Reuters tell us. Edoxaban is a daily pill which inhibits Factor Xa—a protein that plays an integral role in blood clotting. The FDA is not required to follow the panel's recommendations.