November 21, 2007
SAMPLE DOSSIER: Vyvanse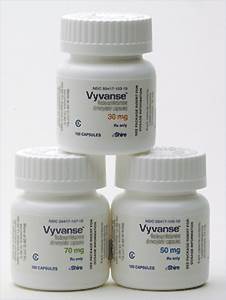 SAMPLE DOSSIER: Vyvanse

Product
Vyvanse

Approval Date
February 23, 2007

Release Date
June 27, 2007

Company
Shire
 


Class
CNS stimulant
 
Indication
Attention deficit hyperactivity disorder (ADHD)
 
Active Ingredient
Lisdexamfetamine dimesylate 30mg, 50mg, 70mg; caps.
 
Agency Roster
Kaplan-Thaler Group (consumer)
Integrated Communications (professional)
Unit 7 (relationship)
Cadient Group, Inc. (interactive)
 
Marketing Strategy/Execution
Shire's marketing strategy with Vyvanse involves converting patients from category leader Adderall XR over to the new drug, which launched in June after its February approval to treat symptoms of ADHD in children aged 6 to 12. Vyvanse offers a novel approach to the delivery of the stimulant: it remains therapeutically inactive until metabolized in the body, a feature designed to cut down on abuse. Studies have shown the drug provided consistent symptom control compared to placebo throughout the day, even at 6:00 pm, when children—theoretically—start their homework. Shire acquired Vyvanse developer New River Pharmaceuticals in April, allowing it to drive the launch and future development of the product. The launch will include DTC and journal advertising.  UPDATE: In April 2008, Vyvanse received an indication for treating ADHD in adults

.


 
The Market
Analeptics US sales ($000s) last 5 years
2006
$3,519,276
2005
$2,967,654
2004
$2,424,573
2003
$1,963,100
2002
$1,663,275
Source: IMS Health, Oct. 2007

Top 5 analeptics
 
Jan.-July '07 US sales ($000s)
% sales growth over Jan.-July '06
ADDERALL XR (Shire)
$731,696
15%
CONCERTA(McNeil)
$582,338
11%
PROVIGIL(Cephalon)
$478,896
15%
FOCALIN XR (Novartis)
$148,357
72%
METADATE CD (UCB)
$70,267
19%
Source: IMS Health, Oct. 2007


Physician Outlook
Vyvanse has two powerful messages in extended school day efficacy and lower abuse potential. In our research with key physicians including psychiatrists, "consistent efficacy levels during school (hours)" is rated high among efficacy attributes. Couple these strong marketing messages with Shire's experience in this marketplace, and expectations for Vyvanse's future success is very positive.
—Geoff Penney, VP, category business leader, psychiatry, GfK Market Measures, Oct. 2007
 
Also in the Pipeline (according to Adis R&D Insight)
Drug: SPD 465
Manufacturer: Shire
Indication: ADHD
Active Ingredient:
Phase: III
Source: Wolters Kluwer Health, Oct. 2007
 
Recent MM&M Coverage
Shire gearing up for Vyvanse launch
Vyvanse prepares to lead ADHD class
FDA OKs Shire ADHD drug Vyvanse
Product news from the 02/27/07 news brief
 
Pharmacology
After oral administration, lisdexamfetamine is rapidly absorbed from the GI tract and is converted to the active drug dextroamphetamine. Amphetamines are thought to block the reuptake of norepinephrine and dopamine into presynaptic neurons and increase the release of these neurotransmitters into the synapse. The mechanism of action of the amphetamines in treating the symptoms of ADHD has not been established.
 
Clinical Trials
In a double-blind, parallel-group study, children 6–12 years old who met the DSM-IV criteria for ADHD were given either fixed-dose lisdexamfetamine or placebo once daily in the AM for 4 wks. Significant improvements in behavior were seen for all doses for lisdexamfetamine compared to placebo; these improvements were maintained throughout the day, up to approximately 6pm. Both investigator rating scales and a parent rating scale was used to assess efficacy.
In a crossover study conducted in children 6–12 years of age who met DSM-IV criteria for ADHD, the effects of lisdexamfetamine and Adderall-XR were compared to those of placebo. After a 3-week open-label dose-titration phase during which Adderall-XR was given, patients were randomized to continue the same dose of Adderall-XR (10mg, 20mg, or 30mg) or they were switched to lisdexamfetamine 30mg, 50mg, 70mg, or placebo. Across the eight sessions of a 12-hour treatment day, a significant difference in behavior between those given lisdexamfetamine and those given placebo was seen.

Adverse Reactions
Cardiovascular and CNS effects (eg, psychosis, tics, dizziness, insomnia, irritability) GI upset, rash, upper abdominal pain, decreased appetite/weight, anticholinergic effects (eg, blurred vision, dry mouth).
 
Adults
>12yrs: not recommended.
 
Children
<6 yrs: not recommended. 6–12yrs: 30mg once daily in AM. May increase at intervals of 1 week by 20mg/day; max 70mg/day. May dissolve contents of capsule in water, take immediately (do not subdivide caps).
 
Contraindications
Advanced arteriosclerosis. Symptomatic cardiovascular disease. Moderate to severe hypertension. Structural heart defects. Arrhythmias. Hyperthyroidism. Glaucoma. Agitation. Drug abusers. Hypersensitivity or idiosyncrasy to sympathomimetics. Within 14 days of MAOIs.
 
Precautions
Bipolar disorder. Psychoses. Tourette's syndrome. Tics. Hypertension. Heart failure. Recent MI. Seizures. Drug abusers. Impaired renal, hepatic, or thyroid function. Reevaluate periodically. Monitor growth, BP, heart rate, worsening aggressive behavior or hostility. Write Rx or smallest practical amount. Pregnancy (Cat.C). Nursing mothers: not recommended.
 
Interactions
See Contraindications. Hypertensive crisis with MAOIs, furazolidone. Potentiated by tricyclics, propoxyphene. Potentiates meperidine, norepinephrine, phenobarbital, phenytoin, tricyclics. Antagonized by urinary acidifiers, psychotropics (eg, haloperidol, chlorpromazine), lithium. Antagonizes adrenergic blockers, antihistamines, antihypertensives. Monitor phenytoin, ethosuximide, phenobarbital. Convulsions with propoxyphene overdose. Caution with other sympathomimetics. May interfere with urinary steroid tests.