September 05, 2017
Using LVWIs to Drive Pharmaceutical Marketing: Combination Products Give Patients a New, Far Better, Injection Experience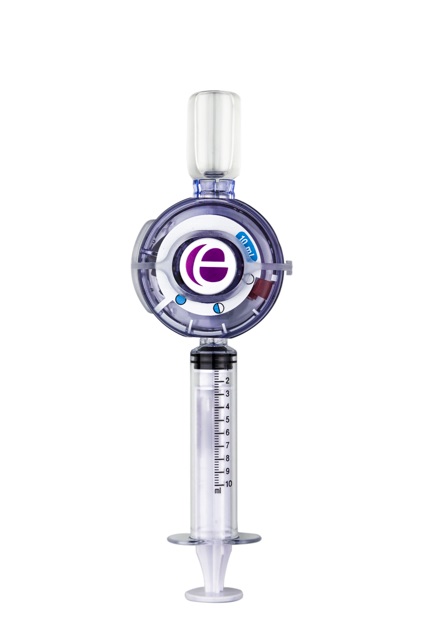 Enable Injections debuts the first multi-vial/multi syringe system for biologics delivery. The small, handheld device can also be used for variable dosing based on patient's weight, providing maximum flexibility and ease of use with a minimum of waste.
Fast Company prefaced its ranking of top 10 pharmaceutical companies with a statement that innovation for the benefit of people is the key to success in the drug industry. Never has innovation to benefit patients been more needed than in the delivery of the big biologic drugs that are rapidly filling pharmaceutical company pipelines.
As more patients transform into consumers who expect more from the industry, pharmaceutical companies that once focused solely on developing drugs have turned to innovative drug delivery. The multiple sclerosis market offers one example. Last year's shift to oral therapies by Novartis, Sanofi and Biogen is directly attributable to patient requests. That shift has paid off handsomely: their oral drugs captured a significantly higher market share.
Biologic drugs also present delivery issues, and herein lies an unprecedented opportunity for pharmaceutical marketers.
Biologics are large-dose, viscous drugs that are often comprised of a mixture of 1,300 heterogeneous amino acids. Due to their large size and complexity these drugs are hard to make. And once formulated, they are even harder for patients to take. The preferred parenteral route can be both painful and inconvenient.
Fortunately, as in the MS market, a new patient-focused biologics delivery system in the form of advanced large-volume wearable injectors (LVWIs) from Enable Injections and others has evolved alongside the development of biologic drugs. Enable Injection's advanced EnFuse wearable drug delivery device, based on dozens of human factors studies, makes possible combination products that make it remarkably easy, convenient and nearly painless for patients to adhere to a prescribed therapy regimen.
Based on the overwhelmingly positive reactions from patient panels, the shift to biologic drug/LVWI combination products is expected to occur rapidly. Those companies first to market with patient-focused combination products will have market advantage for 10+ years, while laggards will lose share, studies show.
You can now give patients and caregivers what they want—and gain market share
This is what patient panels requested for delivery of large-volume biologic drugs:
● Minimal or no injection pain for decreased anxiety
● No needle in sight
● No time-robbing trips to a hospital or health facility for infusions
● No waiting 30 minutes for refrigerated vials to reach room temperature
● No tedious, error-prone mixing
Biologics treat a large number of diseases – among them various cancers, autoimmune diseases and rare disorders. Currently, biologics are administered intravenously in a costly health care setting.
Shifting these drugs to subcutaneous delivery combination products not only addresses patient requests and reduces health system costs with patient self-administration, but also creates vast opportunity for those marketers who can convince their companies to heed patient requests. As a recent Accenture study found, patients have great expectations – and pharma companies can't afford to ignore them.
Back in the 1950s, George Merck famously said when he headed his namesake company, "We try never to forget that medicine is for the people. It is not for the profits. The profits follow, and if we have remembered that, they have never failed to appear. The better we remember it, the larger they have been."
That still resonates today. Think of the people. Now that the new large-volume wearable drug delivery technology has arrived you can significantly improve their biologics injection experience. And you too will profit.
Learn more at www.enableinjections.com.