Event Sponsors

IMS Health is a leading global information and technology services company providing clients in the healthcare industry with comprehensive solutions to measure and improve their performance. By applying sophisticated analytics and proprietary application suites hosted on the IMS One intelligent cloud, the company connects more than 10 petabytes of complex healthcare data on diseases, treatments, costs and outcomes to help its clients run their operations more efficiently. Drawing on information from 100,000 suppliers, and on insights from more than 45 billion healthcare transactions processed annually, IMS Health's approximately 10,000 employees drive results for healthcare clients globally. Customers include pharmaceutical, consumer health and medical device manufacturers and distributors, providers, payers, government agencies, policymakers, researchers and the financial community. Additional information is available at
www.imshealth.com
.
As a global leader in protecting individual patient privacy, IMS Health uses anonymous healthcare data to deliver critical, real-world disease and treatment insights. These insights help biotech and pharmaceutical companies, medical researchers, government agencies, payers and other healthcare stakeholders to identify unmet treatment needs and understand the effectiveness and value of pharmaceutical products in improving overall health outcomes.
---

Guidemark Health is a mid-sized, full-service healthcare communications agency headquartered in Parsippany, NJ with multiple offices along the pharmaceutical corridor from Stamford, CT to Princeton, NJ.
With decades of experience, knowledge and passion for healthcare communications, our mission is to guide our clients through the challenges of building lasting engagements with customers. By combining inspiring creative, innovative engagement strategies and extraordinary content, we deliver meaningful healthcare experiences that change lives for the better.
We offer a breadth of services in brand promotion, customer engagement, digital innovation, medical communications and learning - all rooted in a long history of excellence in content development.
---

Founded in 1999 and named Agency of the Year four times since 2010, Intouch Solutions Inc. is a privately held marketing agency specializing in the pharmaceutical and healthcare industries with 500+ experts in New York, Chicago, and Kansas City. Leading its integrated marketing services with a digital focus, Intouch thrives at the intersection of technology, health, and innovation.
Intouch Solutions is an independent, full-service, digital-centric marketing agency serving primarily the pharmaceutical industry. We offer forward-thinking solutions for companies that want to understand and connect with patients, caregivers, healthcare professionals and providers.
For more information, visit
intouchsol.com
.
Sponsorship Opportunities
Event Sponsors



TAKE-AWAYS FROM SKILL SETS LIVE

If you missed any of MM&M's Skill Sets Live events, we're now giving you a second chance to get up to speed, with insightful e-books on each event, with all the key take-aways.
Click on any cover below to get the information from each event.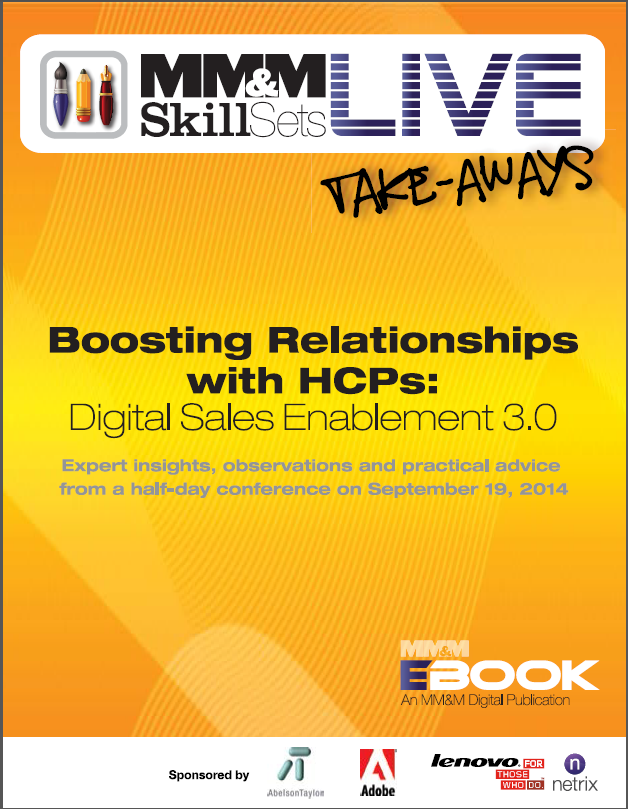 SKILL SETS LIVE: DIGITAL SALES ENABLEMENT 3.0

SKILL SETS LIVE: CONTENT MARKETING FOR HEALTHCARE

SKILL SETS LIVE: TURNING BIG DATA INTO DEEP INSIGHTS
EMAIL NEWSLETTERS
Check out what's trending