June 10, 2014
Considerations for Value Preparation for ASCO 2014 Drugs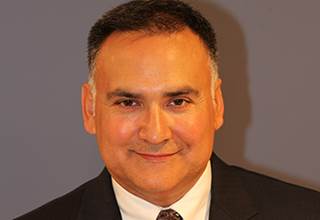 As in previous years, ASCO 2014 did not disappoint, revealing exciting data for promising new treatments, especially in the field of immuno-oncology. Other exciting drugs (CDKs) and newer generations of targeted agents for EGFR and ALK mutations continue to advance treatment of metastatic disease. New drug combinations (e.g., Bristol-Myers Squibb's Yervoy and nivolumab for melanoma) are also advancing care, bringing hope of long-term survival to deadly diseases.
With the introduction of Breakthrough Therapy designation by the FDA, more companies are leveraging a breakthrough-development program for new molecular entities (NMEs) with the potential to become disease-modifying drugs. While Roche leukemia drug Gazyva received its Breakthrough designation too close to launch to have much impact on their development timeline, Janssen's Imbruvica (lymphoma) and Novartis's Zykadia (NSCLC) received Breakthrough Therapy designation early enough in their clinical development processes to reach market speedily, approximately four years from Phase-I trial initiation (Blaiss, OBR Green, December 2013, Novartis 2014). Many drugs presented at ASCO currently in development have already secured Breakthrough status and will be able to reach the market rapidly.
One significant change at ASCO 2014 was the intense focus on the challenge of providing high-value cancer care in an era of stretched healthcare resources while the cost of new therapies continues to rise, with some exceeding $100,000 per year of treatment. Many of the key factors discussed were "perverse drug pricing" (Rena Conti, MD), access inequality, fee-for-service payment model, use of treatments not supported by evidence or ASCO (e.g., patient selection for treatment), and treatment delivered in a site more costly to care (clinic vs. hospital).
Bringing a new drug to the market requires numerous pre-launch commercial activities that are traditionally completed during Phase III of clinical development. Manufacturers bringing to market drugs with Breakthrough status will have a shortened timeframe within which to develop a robust value proposition and price point that can be defended in a highly complex and controversial marketplace.
In this article, we examine critical market access deliverables, and their timing relative to receiving of Breakthrough status. We also present some considerations regarding pricing and value for a successful product launch in the US market.
What are the key market-access deliverables and the time it takes to complete them?
A comprehensive approach that leads to effective market access can be broken down into five key areas:
1. Identify opportunities to demonstrate product value
2. Validate and optimize the value proposition throughout the clinical development program
3. Quantify and substantiate the value by conducting value and pricing research; developing economic and financial models; and integrating clinical and other external medical data into creating a value dossier
4. Adapt and communicate a message platform that demonstrates the value the product brings to treatment of the disease
5. Capture, defend and enhance market access by leveraging the value proposition with payers
For drugs granted Breakthrough status, the planning timeline for an effective market access strategy becomes condensed. A flawed or incomplete market-access strategy can inhibit product uptake, even for drugs with significant clinical benefit, resulting in the product not meeting revenue expectations. Therefore, all the components of a successful access strategy need to be completed, but in a shortened timeline.
The key is to have the value proposition validated and ready to roll out to providers, payers and patients at the time the product receives approval. Therefore, value proposition development needs to begin early in Phase II of development. (click on the chart from Kantar Media below to see a PDF)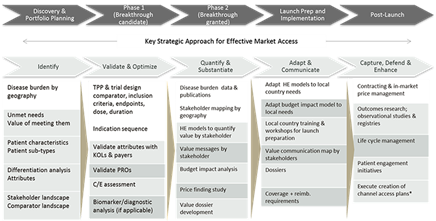 Pricing and value in the US market for a new oncology product
Tremendous changes are occurring in the US that can have a significant impact on developing an effective access strategy for new products. One key development is ASCO taking a leadership role in developing a new reimbursement proposal for oncology services that is a move away from the traditional "fee-for-service" and "buy-and-bill" model (Schnipper, MD, Chair ASCO Task Force on Value in Cancer Care, JCO, May 2014).
Currently, community practice oncologists derive approximately 40% of their operating revenue from the purchase and administration of IV products (National Oncology Practice Benchmark, 2012 Report on 2011 Data, Towle, Barr, and Senese, JOP, Nov 1, 2012:51s-70s). The proposed oncology payment model would be based on reimbursing oncologists for the key steps in treating patients: 1) diagnosis and development of treatment plan; 2) treatment administration and follow-up that is not dependent on the type of treatment; 3) pay for all active treatment, not just IV drugs; 4) pay for transitions in state of disease; and 5) pay for clinical trial participation.
Also, US private payers are leading the drive toward a "value-based" approach for determining appropriate reimbursement for clinical benefit delivered. WellPoint recently announced an Oncology Pathway model for direct incentives for treating physicians who follow defined pathways. Dr. Jennifer Malin, medical director for oncology at WellPoint, illustrated how Oncology WellPoint would evaluate new therapeutics to determine high vs. low value during her presentation at ASCO 2014. (click on the chart below to see a PDF)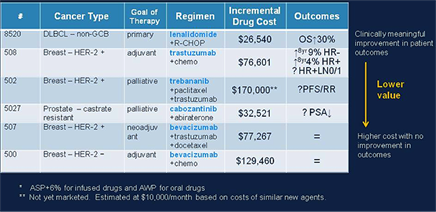 As this illustrates, even drugs that are considered to offer significant clinical benefit are viewed by WellPoint as having lower value. In developing this evaluation methodology, WellPoint is "putting manufacturers on notice" that drug prices must be tied to clinical value, on payers' terms, rather than only as required for regulatory approval.
Clearly, an appropriate pricing and market access strategy is critical now more than ever to ensure that drugs will be reimbursed and used accordingly. If a drug fails to meet the definition of good value, payers will implement aggressive utilization management tactics and cost shifting programs that will ultimately result in the drug not being effectively utilized for all patients who can benefit.
Now more than ever, we are all looking for value-based approaches for treating cancer to maximize our resources to bring the best care to patients who need it.
---
Alan Gray is senior director, oncology commercial strategy group, Kantar Health.
Scroll down to see the next article