February 19, 2014
Unraveling the real story in the data trail: people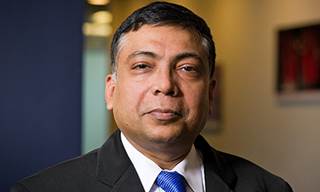 The Decoded Company* is an extraordinary narrative of corporations' journey to the 21st century in a world where businesses are dying of thirst in an ocean of data. The attributes of big data,or the four Vs—namely Volume, Variety, Velocity and Veracity (where the fourth attribute emphasizes the importance of addressing and managing for the uncertainty inherent within some types of data)—can be overwhelming.
The book's authors—Klick Health founders Leerom Segal and Aaron Goldstein, along with technology strategists Jay Goldman and Rahaf Harfoush—have envisioned the ideal company through "decoding," in other words embracing, Big Data to better understand one's own employees first rather than the customers, by unraveling the real story embedded in the data trail to follow the people within the organization.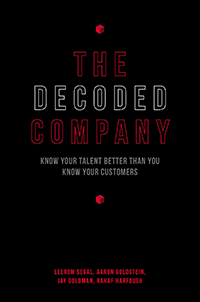 They are of the view that the more democratic an organization is, the better equipped it is to serve its customers. They propose organizations move away from hierarchy and bureaucracy to become more flat, where rank should neither confer privilege nor assign power but should impose responsibilities.
The authors draw from their own experience as well as from reputed companies such as Google, Facebook, Netflix, Amazon, etc. that have revolutionized data. The book is filled with a litany of case studies from industries across the spectrum that resonate a unified message: decode the company as key to a sustainable competitive advantage.
It is thus a manual for companies as to how to build operating systems using data to empower talent that would create efficiencies and harness true capabilities throughout the entire organization. The authors cite three disruptive Decoded principles that would accelerate the migration of management practice to the 21st century and well into the future:
1. Technology as a Coach and Trainer: Learn how to modify or transform the existing technology to become more of a coach and trainer that deftly brings out the best in people within the organization rather than a referee who merely points out the mistake.
2. Informed Intuition, or Data as a Sixth Sense: Learn how to empower people with decision-making authority by coupling instincts with analytics to gain a perspective that's grounded in data while tempered by experience. This resonates well with Peter Drucker's quote, "No organization can possibly survive if it needs geniuses or supermen/superwomen to manage it. It must be organized in such a way as to be able to get along under a leadership composed of average human beings."
3. Engineered Ecosystems: Learn how to engineer healthy ecosystems by focusing on attracting, retaining and engaging talent.
The real value of the book is in the Decoded Toolbox and Experiments that have been provided at the end of each chapter. These nicely enumerate the tools that serve as guidelines to become a successful decoded company.
The authors have listed out software and dashboards developed by those at Klick Health, like the Genome, Genome GeneSequencer, Klick Academy, Klick Talks, Project 360, Chatter, Kudos, Klick Stories, Klick it Forward, Ecosystem Engineer, etc. Also, the authors have provided links to resources pertaining to each chapter as added benefit. As a matter of fact, this book was borne out of the authors' own frustrations, which they very passionately share, prompting them to offer solutions and fixes to bottlenecks encountered within an organization.
The book speaks to C-level executives who are perceived as role models of the company. The authors' sincere advice to companies is to manage bottom-up style, rather than top-down, advocating an open, free-flow culture that should percolate throughout the organization.
All in all, this is a wonderfully articulate and well-written book that appeals to professionals to shed traditional archaic management styles that are bound to result in stagnation and eventually in the death of the company.
*The Decoded Company, from Portfolio Hardcover, officially launches Feb. 20.
---
Partha Anbil, formerly associate partner, healthcare & life sciences industry, for IBM Global Business Services, is now principal at The ConfluenceElite Group, LLC, provider of consulting services to healthcare & life sciences firms, and an adjunct professor at the Hult International Business School.
Scroll down to see the next article