May 02, 2014
Visualize This: Patients Who Actually Understand Their Doctor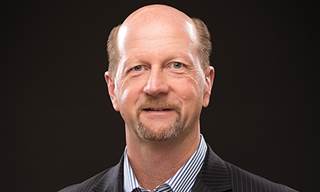 More patients, older patients, sicker patients. The Affordable Care Act cannot alter the reality of the demographic trends on the horizon. Fortunately, visual communications provide the opportunity to dramatically reshape and improve how patients learn about conditions and care.
If it were just a numbers game, solving the issues surrounding the future of healthcare would be daunting enough. But there's more to it—gaps in health literacy and technology adoption are further increasing the difficulty in making healthcare more effective and efficient.
A growing medical emergency
The challenge for resolving the issues surrounding health literacy are significant. Estimates have consistently found that as many as 100 million Americans struggle to understand basic health information.
For older adults, the statistics are even more sobering. Here's the data side of the equation: By 2030, one in five Americans will be 65 or older (count me in that group, if I'm still on the right side of the grass). This same group generates nearly double the volume of physician office visits annually than the next youngest cohort.
So they're experts at this stuff, right? Not quite—the CDC estimates that nearly two-thirds of the 65+ patient population fail to understand the information they receive regarding prescription medications.
With recent studies citing the average length of a package insert at more than 2,500 words, including dozens of "difficult" (clinical/scientific) words, it's no wonder that this group struggles to translate direction into action. And that's just written instructions—face-to-face communication with HCPs can often add to the confusion, particularly if patients suffer from some level of cognitive decline or hearing loss.
My observation is that digital communications (and, more specifically, the discipline of user experience) may offer us a lesson on how to transform complex, text-heavy patient information into instructions that are more easily understood: Simply stated, let's get visual!
The power of visual storytelling
One example of a real-world effort to move in this direction with senior patient populations comes from the Mayo Clinic, where they are using iPads and simple visual storytelling techniques to more effectively deliver patient education and support along the healthcare journey.
Before you dismiss this concept as lacking the ability to scale (based upon preconceived notions of technology use among seniors), take another look at recent technology adoption data among the 65+ population. Due to the visual appeal of tablets, seniors are adapting them at much higher rates than smartphones: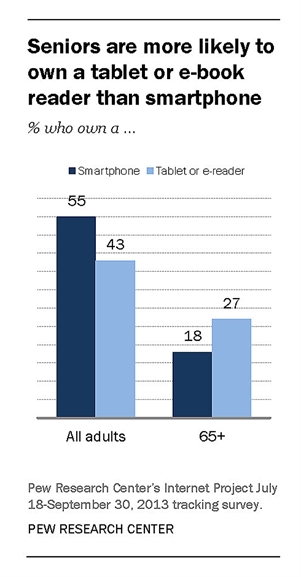 The Mayo Clinic is not alone in these efforts—a blog associated with the June 2013 issue of Academic Medicine provides another glimpse into the power of storytelling to improve patient comprehension and engagement, even in the face of dementia. The author, Daniel George, PhD, observes that "storytelling is central to the human experience"; he and his Penn State Hershey Medical Center colleagues report promising outcomes in terms of both patient and medical student engagement and attitudes.
Picturing the future
During the recent #Phorum14 conference on Enhancing Customer Engagement in a Digital World, Independence Blue Cross CEO Dan Hilferty shared his vision for transforming patient interactions through new technologies and visual storytelling that simplifies the healthcare consumer experience. Along those lines, IBC has been instrumental in helping to launch DreamIt Health, the Philadelphia region's first healthcare business accelerator.
As the examples above demonstrate, providers and payers are moving in the direction of combining visual storytelling with digital technology to enhance patient understanding of healthcare-related communications. As marketers, we should be able to set the pace in visualizing the future of healthcare-related communications—a future where visual storytelling drives health literacy, compliance and, ultimately, improved health outcomes—especially for a rapidly growing elderly population.
Steve Wray is president and CEO, Cadient Group.
Scroll down to see the next article