November 01, 2016
3 health tech innovations experts say will revolutionalize healthcare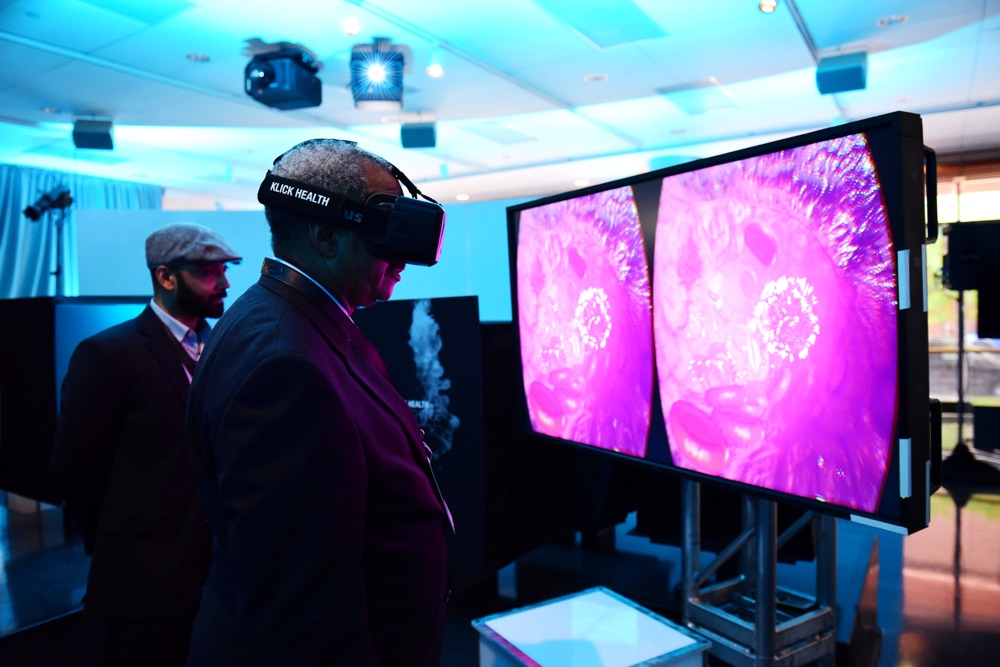 A biotech executive travels through the human bloodstream via virtual reality at Klick Health's Ideas Exchange event last spring.
The healthcare system remains something of a mess, riddled with inefficiencies and burdened by the industry's historic aversion to change. Yet, for the first time in years, many execs see a way out of the morass — and it's the health-tech sector providing leadership and innovation in equal measures.
The technology market may be experiencing a downturn, but according to a Rock Health report, digital-health funding reached $981.3 million in Q1 2016. The sum represents almost 50% year-over-year growth and is the highest first quarter since it began tracking deals in 2011.
See also: StartUp Health reports more global deals, uptick in pharma investment in digital health
"This is the most interesting time in the history of healthcare and medicine," says Zen Chu, MD of Accelerated Medical Ventures and senior lecturer at the MIT Sloan School of Management. "We've got so many new technologies and redesigned experiences impacting both the value we deliver, and also the value patients are getting from healthcare."
Can these technologies and experiences be scaled up in a cost-effective manner? That isn't likely to be answered anytime soon. Nonetheless, here are three health-tech innovations observers believe are most likely to revolutionize healthcare — economically and otherwise — in the years ahead: virtual reality, nanotechnology, and 3D printing.