January 05, 2015
Satish Movva: Top 40 Healthcare Transformers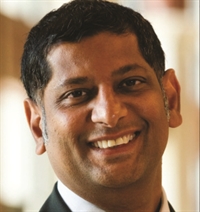 There are many instances of children creating great works of art in response to the treatment of—or by—their parents. There are considerably fewer examples of potential billion-dollar companies being fueled by this same impulse. Consider, then, the story of CarePredict, founded by IBM and Interim Healthcare alumnus Satish Movva. When he left Interim in 2013, he found himself spending lots of time with his 86-year-old father and 72-year-old mother and wondering how to monitor their physical condition from afar. "Every time I visited, I'd notice something different. One time my dad was shuffling instead of walking because he had water in his ankles. I asked my mom, 'Why didn't you tell me about this?' The problem was that the changes were so gradual, she didn't even notice."
Movva went to work, experimenting with Fitbits ("all they do is count steps") and GPS-like location tracking. Ultimately he devised a sensor-enabled wristband that looks like a cross between a wristwatch and a piece of jewelry. The wristband interacts with beacons placed throughout the home to give whoever's monitoring the person in question a more complete look at the monitored person's activities. "We can track the meaningful activities of daily living and we can put them in context," Movva reports. "If somebody stops brushing his teeth, that could be the early onset of memory loss. If somebody stops eating, that could be a sign of a depressive phase." The technology is amazingly user-friendly: It charges and transmits information automatically. "There's nothing that flummoxes older people who aren't familiar with technology," Movva adds.
He stresses that CarePredict is a consumer company and notes that the most interest so far has come from senior-care facilities and managed-care companies. He also notes that the competitive landscape looks barren: "There are five wearables for dogs but none for seniors," he says disbelievingly. Look for CarePredict to complete its pilots in the first quarter of 2015, then quickly roll out into the marketplace.
Scroll down to see the next article