February 01, 2009
/alert Marketing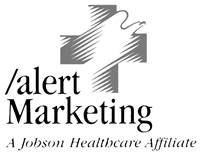 JMI Inc.
160 Chubb Avenue
Suite 306
Lyndhurst, NJ 07071
Phone: 630-790-0386
Web: www.alertmarketing.com

Dave Leyden, president,
630-790-0386 
dleyden@alertmarketing.com
Innovative products and services to deliver information andeducation to healthcare audiences, including physicians, allied health,consumers, and pharmacy.
Mailing programs include monthly M.D./alert®, Pharm/alert®, N.P.-P.A./alert®, and Custom Targeted Mail. Additional services: e-/alert, faxing, printing and fulfillment..
Scroll down to see the next article