October 13, 2011
Best Corporate Marketing Campaign
Download:

Category 18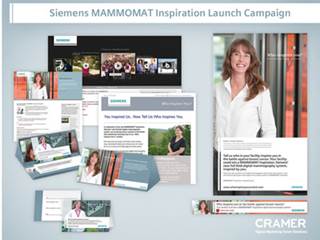 Recognizes excellence for a print advertisement/campaign, website (company.com), video or other communications channel used to promote a corporate client.
GOLD AWARD
Cramer and Siemens
Who Inspires You? Contest

Judges loved this campaign that focused on a customer video contest to celebrate the US launch of Siemens' full-field digital mammography system, the Mammomat ­Inspiration. Hospitals and imaging centers were invited to submit brief videos nominating clinical staff members who ­regularly inspire their colleagues and/or patients for a chance to win a Mammomat Inspiration or one of five $10,000 vouchers towards ­purchase. Entrants also addressed ways that the Mammomat Inspiration could help facilities promote breast-cancer awareness.
"A great campaign using social media and getting customers involved," said one judge.
A Siemens statement notes the Mammomat Inspiration is a direct result of customer feedback. Since customers inspired the system, the company wanted the campaign to reflect what inspires customers. The campaign also positioned Siemens as a partner in improving women's health.
"Utilizing Siemens employees, shot at Siemens facilities in the US and Germany," the campaign "humanized the brand and effectively delivered the message," the agency said.
"This campaign gets off the usual corporate communications soapbox and allows employees to build the company brand," said one judge.
"Nice use of social and internal assets," noted another.
Results included 6% ROI; 66 unique qualified leads; 96 video submissions; 6,324 website page views (3,627 unique visits); and a 14% open rate on delivered emails.
SILVER AWARD
ICC and Johnson's Baby Brands
Johnson's Equity Campaign
This outstanding campaign helped reinvigorate awareness and drive retail sales of J&J's baby care products by reminding pediatric HCPs of the company's heritage. Images of J&J's iconic products include baby shampoo and baby lotion. The shampoo's famous "No More Tears" promise is followed by "We still mean every word," with additional copy highlighting the safety standard set by the product in 1953. "Communicates corporate equity well," said one judge. "A good campaign leveraging the history of J&J," another noted.
THE FINALISTS
• Cramer and Siemens—Who Inspires You?

• FingerPaint Marketing and Alimera Sciences—Alimera Corporate Campaign

• ICC and Johnson's Baby Brands—Johnson's Equity Campaign

• LehmanMillet and Abbott Medical Optics—Global Surgical Sales Force Video

• LehmanMillet and Zimmer Dental—IM Zimmer Global ­Integrated Marketing ­Campaign
Scroll down to see the next article