October 08, 2014
Cadient acquired by tech co. Cognizant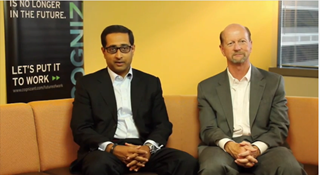 The typical agency acquisition usually involves a large network or holding company gobbling up one of the last few indies still hanging around. Today's big agency M&A news is markedly different.
Technology consulting firm Cognizant announced it will acquire Cadient Group to lend the Pennsylvania healthcare shop's digital marketing brush to Cognizant's data and consulting heritage. About 100 digital specialists from Cadient with expertise in brand strategy, content development, UX and multi-channel analytics will join the technology company.
The deal diverges from the agency-eat-agency pattern with the technology industry investing in the digital marketing skillset that healthcare communications companies have been developing over the past decade.
"The definition and role of a digital agency is long overdue for a reset," Stephen Wray, president/CEO of Cadient, told MM&M in an interview today about the deal. "We believe that the combined Cadient and Cognizant capabilities will expand the opportunities for both companies to assist customers with digital transformation across the enterprise—whether in R&D or medical affairs within life sciences or as it relates to the consumerization wave sweeping the healthcare industry."
Shankar Narayanan, VP and global markets leader of the life sciences practice at Cognizant, wrote in a statement that the acquisition of Cadient will complement his firm's digital and interactive capabilities and ability to help brand managers with "...customer experience across multiple channels," while complying with regulations and achieving greater return on marketing investments," he stated.
Under the terms of the deal, Cadient will go with the moniker "Cadient, a Cognizant company." When asked if the company was planning to change its office space, headcount or executive team, Wray stated, "No. This transaction is about growth opportunities...not cost savings."
As with most successful independent agencies, Cadient was looking to "expand its capabilities" and "establish global reach," before the deal took place according to Wray—measures that can prove difficult without a parent company's resources.
The terms of the deal were not disclosed, but
The Economic Times
—citing a Cognizant spokesperson—confirmed that the price was approximately 1.5 times the revenue of Cadient, or $30 million.
Scroll down to see the next article