June 07, 2016
Concentric promotes three as managing partner departs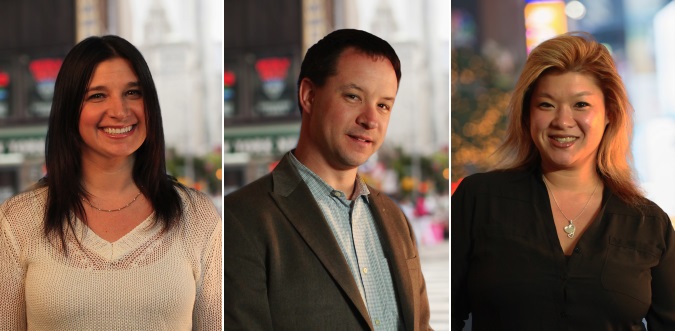 From left to right: Bethany Sardinha, Jeff LaVaute, and Kristina Teng will fill some of the client responsibilities of of managing partner Jennie Fischette, as well as take on new accounts at the firm.
Concentric Health Experience promoted three executives: Jeff LaVaute, Bethany Sardinha, and Kristina Teng.
LaVaute, Sardinha, and Teng will fill some of the client responsibilities of managing partner Jennie Fischette, who left Concentric at the beginning of this month for a new job, as well as take on new accounts at the firm. Fischette did not immediately respond to requests from MM&M about her new role.
"Jennie's former role will evolve into the broader scope of a new president for the agency, and that search is already underway," said Ken Begasse, CEO of Concentric. "Her strategic responsibilities are handled by Ed Cowen and her agency responsibilities are being handled by me and will be filled and expanded with [the] new president."
"Jennie joined us about four and a half years ago as director of client service, where she excelled at helping our agency grow," added Begasse. "She's now growing herself and having the opportunity to go to a major network, and help them build a whole new culture with a collection of their agencies."
In their new roles as SVPs and client service directors, LaVaute, Sardinha, and Teng will each oversee individual "entrepreneurial pods" within Concentric, each focusing on a collection of brands. This ensures clients get a holistic approach to their business, with resources available for creative, operations, and digital, noted Begasse.
See also: Concentric CEO Begasse on the important components in agency culture (video)
"We want our clients to have the connection with Concentric's leadership and ensure that it's not over-burdening one individual and having an impact on our clients," he said. "We have three groups and they have our undivided attention, and we believe it gets closer to our clients and gives them better services."
LaVaute will be responsible for Sunovion Pharmaceuticals, Collegium Pharmaceutical, Ferring Pharmaceuticals and Leo Pharma; Teng will oversee Sage Therapeutics, Otsuka Pharmaceutical/Lundbeck, BD, and Sun Pharmaceutical; and Sardinha will be in charge of Novartis Oncology, Theravance BioPharma, Bayer's oncology business, Allergan, and Aerie Pharmaceuticals.
The agency, which is part of MDC Partners, is also looking to expand in account management and channel planning capabilities, and it plans to hire talent in digital project management, user experience, and analytics for its new engagement group, Radius-Hx.
Some of Concentric's key clients include Sunovion, Novartis, Allergan, and Medtronic. The agency is working on two new therapies: an experimental melanoma drug for Novartis and an abuse-deterrent opioid for Collegium that was recently approved by the FDA.
CORRECTION: An earlier version of this story incorrectly described the scope of work at the agency. LaVaute, Sardinha, and Teng will fill some of Fischette's client responsibilities as well as take on new accounts at the firm.
Scroll down to see the next article