October 01, 2012
Draftfcb acquires New York pharma shop Hudson Global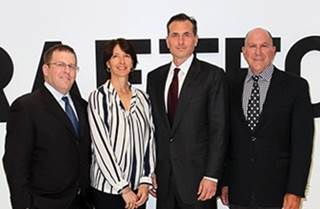 Draftfcb Healthcare has bought Tarrytown, NY-based drug marketing shop Hudson Global.
The shop, founded in 2004, boasts a staff of 55 handling a roster of 20 clients in the pharma, diagnostic and biologics spaces. The agency will fall under the Draftfcb Healthcare umbrella but will still operate as a standalone unit under its old name and out of its Tarrytown office, led by its cofounders CEO/president Robert Blink and EVP Jason Goldklang. Blink will report to Draftfcb Healthcare and Draftfcb New York CEO Dana Maiman, and several employees will work regularly out of the network's Midtown Manhattan office (Tarrytown is around 25 miles north of Manhattan along the Hudson River.)
Maiman praised the shop's expertise in medical education and sales training, along with its proprietary digital delivery technology, the SmartSeat platform, and exclusive video streaming partnership with MLB Advanced Media.
"It will enable tremendous video streaming and other proprietary technologies to be applied in the med ed and sales training areas," said Maiman, adding that "We wanted to acquire a company that had a very similar business approach and culture so that it would be seamless."
Like Draftfcb Healthcare, said Maiman, Hudson is "extremely innovative and they'll drive revenue and sales for our clients' brands."
Interpublic Group's Draftfcb is a giant in the healthcare marketing world, with not one but two conflict shops—NeON and Area 23.
Scroll down to see the next article