April 01, 2007
Flashpoint Medica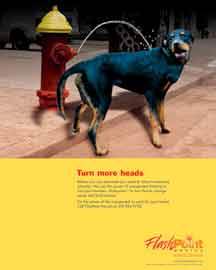 158 W. 29th Street,
New York, NY 10011
Phone:
212-894-9750 ·
Fax:
212-894-9751
Email:
info@flashpointmedica.com
·
Web:
www.flashpointmedica.com
Founded:
2005
Parent company:
Omnicom, New York, N.Y.
Officers:
Charlene Prounis, president; Helen Appelbaum, partner.
U.S. billings breakdown by media/source:
Medium
2005
Journals
30.0%
Alternative Media
15.0%
Conventions/ exhibits
15.0%
Direct marketing
10.0%
Sales Materials
15.0%
Healthcare accounts:
Genentech: Herceptin (professional projects); UCB: Tussionex; Valera: Valstar; Integra: spinal fusion product; Noven: Vivelle-Dot projects; Forest: Faropenem projects.
Accounts gained (4):
Valera, Integra, Noven, Forest.
Accounts lost (0): Services:
Flashpoint is a full-service professional agency that differentiates itself by focusing on and igniting critical moments for brands that drive change and growth — called flashpoints. Services include: advertising/promotion, brand development — from brand audit workshops to positioning/personality workshops, competitive claim assessments, prelaunch and launch message development, market research methodology recommendations to a full-service studio with interactive capabilities and more. Flashpoint has also pioneered a range of proprietary marketing approaches, which include Doctor/Patient Encounter (DPE ) programs, by which patients are motivated to initiate a productive dialogue with their doctor. A related approach, the Rep Sales Effectiveness program, helps increase the value of the sales rep to the doctor.
Scroll down to see the next article