April 01, 2013
Greater Than One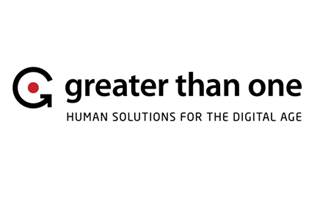 Company Profile
Human Solutions for the Digital Age
For over a decade, Greater Than One has been the ­leading digital communications agency serving ­innovative ­companies in complex, regulated industries such as healthcare.
We embrace the complexity of digital and healthcare, and believe that digital communications are most ­effective when they connect with the human being on the other end. That's why we hold tight our core values, which ­revolve around using imagination to empower human beings via digital technology. This allows us to offer unique, powerful, and effective solutions that empower brands, drive sales, and change lives.
The fact is that the world has gone digital—and no one is positioned better than Greater Than One to help you capitalize on the resulting opportunities.
Services and Offerings
Integration
Branding
Strategic & Business Consulting
Search
Media
eCRM
Technology
Creative
Social
Mobile
Insights & Analytics
We take the time to fully understand clients and their ­audiences, so the communications we create are ­meaningful, valuable, and emotionally impactful.
Core Capabilities
See www.greaterthanone.com/expertise.html

What will be the game-changing trend over the next five years?
We believe that the ­Affordable Care Act—with its mandate of using patient engagement as a means of improving quality of care—is a game changer. Despite the recent ­technological ­advances, the way people communicate about healthcare remains largely unchanged.
We believe it's time for a breakthrough ­technology: the BioDigital Human PlatformTM.

In partnership with BioDigital, Greater Than One is proud to offer the first cloud-based, 3D human body that is fully interactive, social, and collaborative with authoring tools, and that provides endless possibilities for ­professionals, patients, and caregivers alike. It's time to ­transform healthcare education. Join us!
www.greaterthanone.com/digitalhuman.html
Address 395 Hudson Street, 4th Floor, New York, NY 10014 Phone 212-252-1999 Website www.greaterthanone.com New Business Contact Hung Ma, VP of Account Development, 212-252-7363, hung.ma@greaterthanone.com Year Founded 2000 Employees 100+ Sample Clients Genentech, Sunovion, Hess, Amgen Office Locations New York, NY; San Francisco, CA; Madrid, Spain
Scroll down to see the next article