March 22, 2012
Guide to Interactive Companies
A showcase of select interactive marketing and media companies, comprising a concise profile of each, with details of their services and offerings, areas of expertise and examples of their work. Each company entry features a section of convenient "Fast Facts," such as contact information, web address, company size and client roster.
Click on the company name below to see its listing:
Medical Marketing Service, Inc.
Beacon Interactive
—A Division of Beacon Healthcare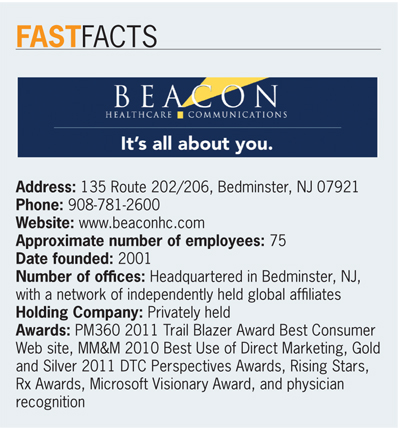 Company Profile
Optimization, platform-agnostic, self-quantification, phygital, crowd sourcing, ­phishing, sniffer software—
Buzzwords abound in the digital realm. But at Beacon Interactive you won't need a glossary to speak digital with us. After all, big words mean nothing if there's not a big idea behind them.
We understand that physicians, payors, and consumers are becoming hyper-connected to digital content and to each other. And we know how critical multichannel marketing is to reaching them all. But more importantly, we'll help you find the right channels…those your customers use. That's the way to create exactly the right kind of buzz. And if any new acronyms crop up as we're getting enthusiastic about an idea for your brand, we apologize beforehand and promise to explain the idea in plain English.

Cross-platform agnostic technologies that ­optimize retargeting… WHAT?
Whatever platform and technology is required, we can make it sing. Our strategists and creative teams work with you to make telling the right story to the right audience so useful that it benefits the patients, HCPs…and of course your brand.

Be the driver behind your mobile initiatives
iPhones, Androids, iPads, Blackberries—nearly two-thirds of US physicians use a mobile device for medical or clinical purposes (according to Google). This means information is accessible everywhere we are, or at least where your mobile device is. And that's a huge opportunity for healthcare marketers. But just because you have content on the Web, doesn't mean it is ready for prime-time mobile. Our specialists can make your mobile devices work brilliantly for your brand.
CRM. Customer Relationship Magic
We deliver customized, behavior-changing solu­tions…from acquisition to retention through persistency and customer loyalty programs. Health­care marketers are seeking to outsmart, not outspend, their competition. So we identify the right target, the right channel(s) and the right message. And since our world is ever changing, we monitor and evolve those messages and channels to personally touch every stakeholder.

At Beacon Interactive, it's all about you, your brand, and your success. Our promise to our clients and customers can be summed up in three words: "We hear you." We listen. We understand what you are going through, because we've been there—as clients, patients, healthcare professionals, and agency folks…a true 360° approach.
The CementBloc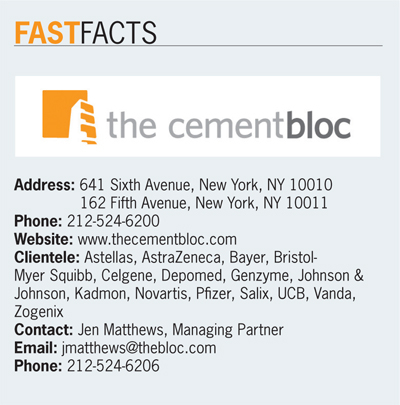 Company Profile
The CementBloc is leading a fundamental transformation of the healthcare agency model, grounded in the belief that a converged approach that incorporates digital and off-line platforms is the only way to reach a fragmented marketplace.
The strength of our approach lies in the ability to connect the customer with the brand across all phases of the life cycle to build multichannel customer touchpoints. We bring to bear our deep expertise in key areas of Web, mobile, social, and relationship marketing to develop content and affinity-based plans that drive engagement and sales. We have done so through the development of communications that target the unique needs of all core customer segments: healthcare provider, patient, consumer, and payer.
The CementBloc is the second-largest independent healthcare creative agency in the United States as well as the founding partner of ­Indigenus, an international network of award-winning, independent healthcare agencies.
Services and Offerings
Our service offerings include a broad range of brand needs from core strategic brand planning to channel strategy and management, closed-loop platform development, and multichannel creative execution.
Our digital services comprise 3 areas of specialization:

eContent
• Web sites
• Microsites
• Tablet PC and iPad details
• Podcasts
• Webcasts
• Email blasts
• Games and apps

eCommunication
• SEO
• SEM
• Display/Rich Media
• Mobile Applications
• ePR

eSystems
• Closed-loop Professional Platforms
• eCRM
• Social Media Platforms
• eCommerce Platforms
Accelerated Impact and Recognition
Our dedication to provide quality work that is innovative and customer-centric has led to expansion of our client opportunities as well as industry recognition. This past year several more of our key clients (UCB and Bayer, to name two) embraced the move to digital selling and launched iPad selling programs complete with novel data-sharing applications and comprehensive back-end infrastructure to empower timely program optimization.
We also won a number of creative awards in 2011, many specifically within the interactive arena. Notable among the accolades were 8 separate awards for the Share the Little Things interactive campaign (Celgene), which included Best Interactive Initiative for Consumers (MM+M), Website Excellence (OMMA Awards), and 3 separate Finalist Certificates from The Global Awards. In addition, we are tremendously proud of the recognition we received at the Manny Awards as Agency of the Year Category II.
Flashpoint Medica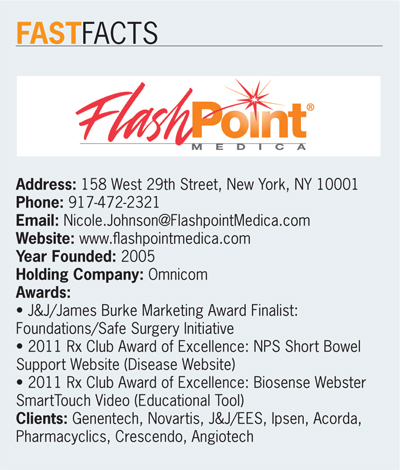 Company Profile
Flashpoint Medica is a full-service multichannel agency dedicated to building healthcare brands, with exceptional capabilities in key specialty markets. Our internal DNA is fueled with the brightest talent across strategic, medical, account, digital, and creative disciplines—all sparked with the desire to collaborate and apply our insights and expertise to your business.
Clients continuously remark on Flashpoint's rigorous investigative approach, ability to package science effectively, and capacity to communicate a brand's promise in unique and memorable ways.
Our process begins with assessing your target audience. We tap into what customers are saying about your brand and use our customer engagement model to deliver results that increase your bottom line.
We integrate and deploy the right mix of proven tactics to capture attention across multiple channels. From high-performance websites, mobile-optimized websites, and iPad experiences to compelling rich media, interactive games, and mobile applications, our team creates experiences that engage audiences and drive results.
We evaluate results against clear success measures and scrutinize every aspect of each campaign, looking for ways to improve performance. We challenge ourselves—and you—to constantly refine our work.
Philosophy on Digital
Flashpoint's philosophy on digital is that, in order to succeed in today's marketplace, we believe all team members need to be able to understand and apply eMarketing fundamentals. We also employ a team of eMarketing specialists, including digital strategists, community managers, information architects, user experience designers, creative technologists, and digital project managers because we're committed to evolving our business to support yours.
Interactive Services and Offerings
eMarketing Fundamentals
• Search and Display
• Email Marketing
• Websites, Mobile Websites
• Social Media Listening
• Measurement and Analytics

Digital Strategic Services
• Customer Segmentation and CRM
• Channel Planning
• Social Media Community Management
• Digital Training

Specialty, Research and Development
• iPad Core Visual Aid Development and Engagement Expertise
• Usability Testing
• Emerging Display Platforms
• Behavior Modification Health Gaming
New Thinking for 2012
Flashpoint is committed to digital training and will offer clients a 6-session thought leadership training package that includes: (1) eMarketing Fundamentals, (2) Regulatory Success Across Digital Tactics, (3) Implementing Social Media Policies for Engagement, (4) iPad Excellence, (5) Creating User Experiences that Drive Action, and (6) Measurement that Matters.
Greater Than One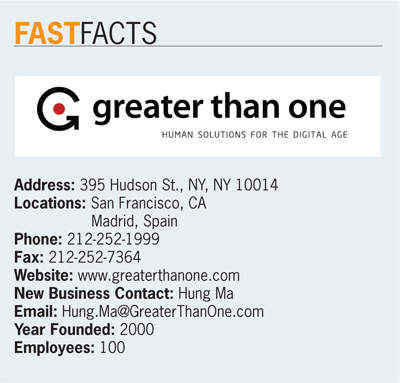 Company Profile
Founded in 2000 GTO remains the leader in ­digital healthcare, delivering integrated solutions that are unparalleled in their award-winning value and impact. Headquartered in New York City, we are an independent, fully integrated global agency offering technology enabled digital solutions.
Industry Recognition
Honored for our work in strategy, media, search, creative and site, mobile and app development – in the past four years alone, GTO has received over 100 awards, including some of the industry's most prestigious honors.
Services and Offerings
HCP and Patient Marketing
Spanning the entire drug lifecycle—from pre‑launch to mature brand—we help our clients reach out across the various touchpoints in the healthcare continuum, engaging physicians and patients alike.

Direct-to-Patient
Our patient healthcare practice is founded upon our unique blend of creativity, innovation, and strict adherence to regulatory policy. And our ­success is built upon our understanding of the patient as a human being, at each stage of their journey.

Physician Marketing
Drawing upon our extensive experience across the web, social, and mobile arenas, GTO works with clients to develop best-in-class HCP campaigns and programs. We reach physicians through an array of digital channels and resources, helping them improve patient relationships, outcomes and clinical efficiencies.

Sales Force Strategy and Support
Leveraging mobile, iPad and tablet PC tech­nologies, our digital solutions support the modern sales force. Applying comprehensive back-end analytics, we help to ensure and measure sales force efficiencies.

Expertise
• Branding and Strategy
• Insights and Analytics
• Web Destinations and Portals
• Digital Media and Search
• Interactive Gaming
• Social Media and Reputation Marketing
• Mobile Communications, Marketing Apps
• Video and 3D Imaging, Digital Outdoor
• Enterprise Architecture
• Web Application Development
• Web Services
• Rich Internet Applications
• Content Management
group dca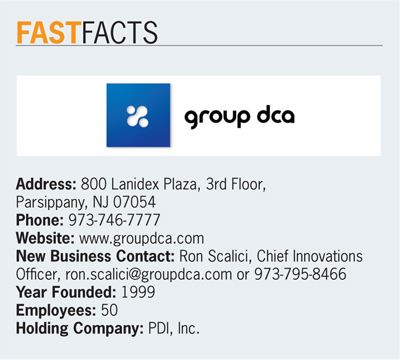 Company Profile
Group DCA is a leading provider of direct-to-physician digital solutions, providing pharmaceutical and biotechnology companies with powerful channels to advance the interactions between pharmaceutical brand teams and healthcare practitioners. When deployed on an iPad or other tablet PC, Group DCA's programs provide field-sales representatives with point-of-contact and follow up tools, interactive content and important insight into their targets' attitudes and preferences.
Group DCA and its business units leverage the strengths of the Internet, multimedia, mobile devices, tablet PCs, dimensional direct mail, and proprietary software called DIAGRAM™ (DIAlog, GRAphics, Motion) to enable healthcare providers' to access information online and on their own schedules. DIAGRAM is the only software in the industry that enables clients to engage target audiences through a graphics-rich interface, capture response data, and use these data to customize future communications, making them more relevant and effective.
Services and Offerings
• Direct-to-physician marketing
• Digital promotion, including eDetailing
• Mobile marketing
• Interactive marketing
• Multi-channel marketing
• DIAGRAM™ software & interface
• Field-sales integration (iPad / tablets)
• Active eLearning
• Direct-to-patient marketing
• cue card—patient support programs
Awards and Recognition
• MM&M Awards—Gold, Best Interactive ­Initiative for Healthcare Professionals (2008, 2006)
• MM&M Awards—Silver, Best Interactive ­Initiative for Healthcare Professionals (2010)
• MM&M Awards­—Finalist, Best Interactive Initiative for Consumers (2009)
• PM360 Trailblazer Innovation Award ­Finalist—Best Company of the Year (2010)
• PM360 Trailblazer Innovation Award ­Finalist—Best Interactive Marketing (2010)
• NJ Ad Club­—Product Information, Business to Business, 1st, 2nd and 3rd place (2010)
• NJ Ad Club—Product Information, Consumer, 1st place (2008, 2007)
• Ad Club of New Jersey Certificate of ­Excellence (2007)
• Rx Club Award of Excellence (2008, 2007)
• Communicator Award of Distinction (2011, 2009, 2008)
• Inc. – 5,000 Fastest Growing Companies (2010, 2009, 2008, 2007)
• Frost and Sullivan Award for Product ­Innovation (2005)
HCB Health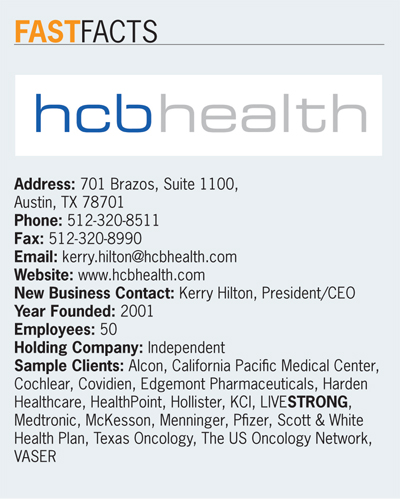 Company Profile
A fully integrated, digitally pervasive agency, HCB Health delivers solutions that leverage all customer touch-points. The result? Powerful ­campaigns that unleash a brand's online potential.
In over a decade of operations, HCB Health has served the entire spectrum of healthcare products and services. Today, the agency is considered one of the top 25 independent healthcare agencies in the U.S. Headquartered in the creative capital of Austin, Texas, HCB Health has become known for big ideas and next-generation approaches.
Digitally pervasive means HCB Health stacks the deck with multidisciplinary creatives. From a full retinue of digital strategists to brand stewards adept at targeting the online space, the agency maximizes the online potential of every project. Media placement and social media experts work to ensure that every campaign leaves an impact.
Services and Offerings
HCB Health provides a full range of interactive services. The agency generates better results by engaging, learning and adapting to client business realities.
To deliver on this promise, HCB Health has developed REAL,™ a process for digital campaign success. Combining Research, Exploration, Activation and Learning, the REAL process starts with concrete facts and ends with smart online optimization. HCB Health prides itself on ­getting close with client organizations, and ­returning insights and metrics that lead to long-term ­effectiveness.
Interactive Services
Interactive Strategy
• Digital campaign strategy
• Online brand development
• Content strategy
• User experience design
• Information architecture

Interactive Production
• Websites, microsites & splash pages
• Email and banner campaigns
• Mobile sites & apps
• Trade show experiences
• Online gaming
• Sales training tools
• Search Engine Optimization (SEO)
• Analytics and measurement

Social Media
• Outreach strategy and implementation
• Blog creation and maintenance
• Conversation management
• Analytics and reporting
Case Study
KCI is an international medical device company ­specializing in wound care. Operating in 26 countries with 18 languages, they needed a global website that would consolidate and organize their web presence. HCB Health created and coded more than 200 pages of content to deliver the ­ultimate user experience, complete with engaging content. clean design and robust management tools for easy updating. After the worldwide launch of its website, KCI experienced strong market growth and brand awareness.
Ignite Health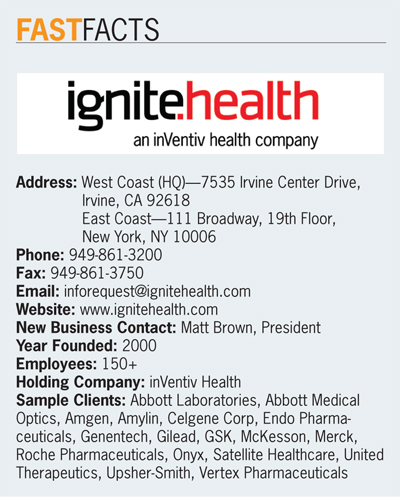 Company Profile
Ignite Health is a full-service, brand-building ­agency with a digital core. Ignite Heath was founded in 2000, and in 2007 became part of inVentiv Health. With offices in Irvine, CA and New York City, and over 150 employees, Ignite Health has the scale and scope to deliver a full range of ­promotional solutions in the health and wellness market. Ignite Health ranks among the top 20 healthcare agencies and was a finalist in 2011 for Med Ad News' Agency of the Year. We offer clients a broad range of fundamental practices and digital excellence to create unstoppable
­momentum for brand success across the ­continuum of a brand's life cycle.
Services and Offerings
Unlike other advertising agencies, Ignite Health has an embedded, best-in-class healthcare branding practice focusing on insight planning, positioning, brand strategy development, scientific branding, and branding hallmark design.
As an award-winning digital healthcare pioneer, Ignite Health has achieved multiple firsts in the digital space. We are differentiated by our digital leadership, innovation, social media expertise, strategic insight, client and employee retention, and unmatched partnering capabilities. From the development of micro-targeted multi-channel executions to the creation of virtual HCP/patient engagements, interactive games, and disease specific social networks, Ignite Health delivers healthcare communications expertise through the latest Web 2.0 technologies.
Ignite Health has many unique services and ­offerings, including:
• Digital Strategy
• Branding The Science & Clinical Strategy
• Social Media
• Brand Analytics
• Health Gaming
• Brand Development
• Online & Offline Promotion
• Web Development
• Customer Insights
• Mobile Planning
Case Study: Vertex Pharmaceuticals
The launch of INCIVEK® (telaprevir), Vertex Pharmaceuticals' first commercialized brand for Hepatitis C, has surpassed all expectations and is on course to become one of the most successful launches in pharma history. Pre-launch, Ignite Health focused on disease awareness, patient support/relationship management, customer engagement analysis and development of social media. In on-going brand-building, Ignite Health conceived and executed campaign development for unbranded disease education, product promotion and corporate promotion. Despite having similar efficacy/safety data and despite being significantly outspent, INCIVEK® has captured more than 85% of the scripts when compared to Merck's VictrelisTM.
Medical Marketing Service, Inc. (MMS)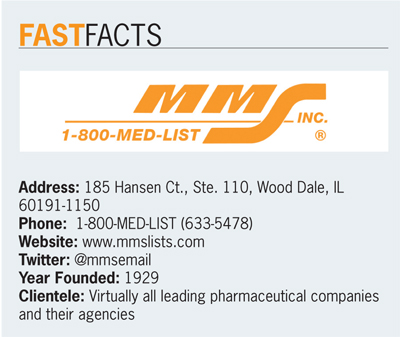 Company Profile
Reach more than a million health care professionals (HCPs) with MMS email marketing service.
• Med-E-MailSM reaches 800,000 physicians' email addresses.
• AAPA-E-MailSM reaches nearly 60,000 physician assistants (PAs).
• NP-E-MailSM reaches 80,000 nurse practitioners/ advanced practice nurses.
• NEW! ASHP-E-MailSM reaches 50,000 hospital/health system pharmacists.
• Hosp-E-MailSM reaches 175,000 hospital personnel and executives.
• Dent-E-MailSM reaches 18,000 dentists.
MMS is dedicated to maximizing the power of email to HCPs. We're the industry leader in email marketing to the health care industry because we offer unique advantages that separate us from our competition:

• Maximum reach—MMS reaches more HCPs than does any other email marketing service we know of with an unsurpassed 97 percent deliverability because we use:
—
Double-permissioned emails
from physicians and other professionals at their preferred address, whether it be office or personal
—
State-of-the-art delivery infrastructure
to get your message past filters and in the right inbox, the one recipients actually use
• Maximum relevance—Because our email is based on the most robust databases, including the American Medical Association (AMA) Masterfile, we can pinpoint perfect prospects for your promotions.
• Maximum response—MMS gets better open rates and click-through rates than any other email marketing service we know of because great reach plus great relevance equals great response.
• Maximum ROI—Put them all together—maximum reach, relevance and response—and you get maximum return on investment.
MMS Email Campaign Benefits
Sophisticated Database—Collected from a variety of sources to ensure maximum reach that includes healthcare associations, medical publishers, PPO networks and physician recruitment companies.
Fast Turnaround—Turnaround time is 2 to 4 work days, but we can complete same-day requests.
Email Broadcast Filters—MMS checks each campaign for spam triggers before sending the broadcast to prevent your message from being marked as spam.
Match by Targeted File—MMS can target HCPs by physician data, including files with Medical Education (ME) Numbers (AMA-proprietary ID number for all U.S. physicians), or by National Provider Identification (NPI) numbers.
Success Reports—Our aggregate reports of sent emails, received emails, open rates and click-through rates are sent to you as a complimentary service after each broadcast.
Dedicated Staff Expertise—MMS has been a respected physician mailing list provider for 80+ years. We expanded our services more than 10 years ago to include email marketing campaigns.
For a personal consultation, contact your MMS Business Development Manager at 1.800.MED.LIST (1.800.633.5478) or sales@mmslists.com. Follow us on Twitter @mmsemail for breaking news and tips on maximizing email ROI!
MPR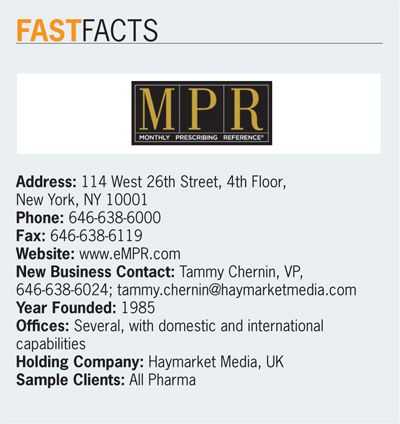 Company Profile
MPR's mission is to develop integrated, multi-platform marketing communication programs for pharmaceutical companies by leveraging the MPR brand's 26-year history of delivering concise, up-to-date drug information to over 650,000 clinicians. MPR delivers point-of-care messages to the health-care professional's preferred media: web, mobile, and print. Every program delivered includes comprehensive metrics to measure Return-On-Investment.
Core Capabilities
In 2012, MPR continues to provide up-to-date drug information and clinical decision support tools to help the busy clinician make the right prescribing decisions. Through print, web, and mobile channels, MPR offers a customized approach to marketing solutions, including: Sales Force Access Tools; REMS Solutions; Therapeutic Content Focus; Targeted Distribution; and Digital Programs at the point-of-care.

Print
• Reach PCPs, PA/NPs, OB/GYNs, PEDs, UROs, Hem-Oncs, LTCs, Residents, RPHs, and other specialists
• Used millions and millions of times

www.eMPR.com
• Average monthly page views – 480,000
• Average monthly unique visitors – 150,000
• 4,000 drugs, with new content, tools, and functionality, including drug interaction checker
• Advertising Opportunities
—Banner Ads (ROS, Profession-Targeted, Specialty-­Targeted, List-Match)
—Contextual Opportunities (Therapeutic subsection takeover; Enhanced online monograph; Keywords search – targeted to brand name, generic name, or disease)
• MPR Weekly News Brief and Seasonal Spotlight-sponsorship of our opted-in eNewsletter
• MPR Prescribing Alerts – posted online, emailed, and via push notification to mobile devices
MPR App: iOS, Android & Blackberry Platforms
• Average monthly page views of > 800,000
• Banner Ads: ROS, Profession- or Specialty-Targeted, List-Match
• Contextual Opportunities
—Therapeutic subsection takeover
—Enhanced online monograph
—Keywords search
Case History
A pharmaceutical manufacturer faced a clear "compliance gap" among both patients and HCPs for a major product. MPR designed a customized clinical solution that aligned with marketing objectives and leveraged the trusted MPR brand and channels to:
• Educate target MDs, PAs, NPs and RPHs about this issue via advertorials and KOL webcasts
• Provide clinical support tools that empowered target HCPs to better counsel patients
• Integrate compliance information with rebates and copay assistance programs
• Engage field sales to deliver medically-relevant collateral to targets
• Engage motivated clinicians and maximize SOV through congress activities
The result was a 54% engagement rate, sustained increase in prescribing activity, and tracked utilization of co-pay cards.
Quadrant HealthCom Inc.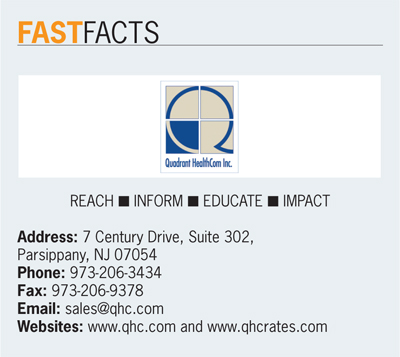 Company Profile
Quadrant HealthCom Inc. is a leading multimedia medical communications company built on a solid foundation of brands. Its 13 regularly issued medical journals, 24 Web sites, meetings management division and custom content and programs reach more than 700,000 physicians, allied healthcare professionals, and their patients, in the U.S. We create exceptional opportunities for comprehensive educational programs bringing together content, clinicians, thought leaders, and patients. We provide a robust platform of print and digital offerings across our portfolio in person, print, online, and on demand.
Core Capabilities
• Creative solutions that facilitate engaging programs quickly, efficiently, and cost-effectively
• Development of original, clinical, peer-­reviewed medical education in multiple formats including live events and enduring materials
• Resources for clinicians to implement learning through counseling tools and patient education
• Luminary physician editors-in-chief and faculty editorial boards of our proven brands, guide development and provide a peer-review process to ensure fair and balanced content, medical accuracy, and relevancy to audience.
Integrated Communication Channels
Numerous advertising programs are available from any one of QHI's brands for multi- or single-sponsorship. Surround your ad with our content—indexed, peer-reviewed, and/or news-oriented—or have us distribute your content, and you will reach an engaged audience. Incorporate various multimedia formats including webcasts, videos, audiocasts/podcasts, mobile apps, custom microsites, content specific eNewsletters, digital editions, and more. Leverage the credibility we have built among our readers, who are eager to receive relevant information from brands they trust.
Services and Offerings
• Among the top 10 medical publishers, covering 15 markets reaching over 700,000 thought leaders, physicians, allied health care professionals, patients and health conscious consumers
• Multimedia communications through print, live and on demand platforms
• Access to 700,000 clinicians and patients via our email database
• Proficiency in original (multilingual) content development, graphic design, audio visual technology, new media and project management with expertise in the MLR process
• Proficiency in meeting planning, audience ­generation, facilitating events, including custom print and online products designed to extend your message before, during and after an event
• Strategic thinkers with broad experience from various sides of the pharmaceutical industry
Rosetta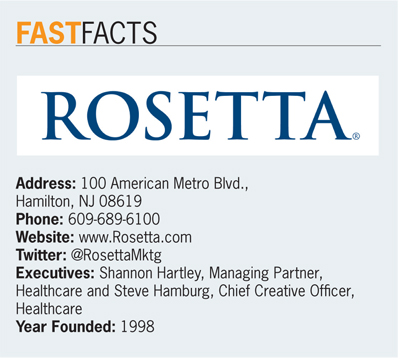 Company Profile
At Rosetta, we connect to what matters. We build brands using our deep vertical knowledge in both healthcare and as a leading interactive agency. Our unique team and integrated structure allow us to address clients most critical business issues and deliver greater impact.
Our differentiated approach is founded on:
• Generating deep consumer, brand and category insight to heighten message relevance and personalization
• Creative capabilities to connect brands to audi­ences via meaningful and memorable experiences
• Our deep technical expertise across platforms and connected devices to maximize interactivity across all channels
Services and Offerings
Rosetta is engineered specifically to build personalized marketing experiences and solutions. As an interactive agency with deep roots in the healthcare industry, we are able to deliver better health and business outcomes, driving customer engagement though our integrated approach to multichannel marketing.
Through our insight-driven research process we define the underlying drivers of customer demand and engagement in order to address critical business issues; identify new business opportunities and build deeper connections. The consumer insights are then translated into personally relevant content and experiences that are delivered, measured, and optimized across technology platforms and connected devices.
Our services include:
• Salesforce Enablement Tools/Connected Devices
• Insights and Segmentation
• New Brand Launches
• Relationship Marketing
• HCP and Consumer Marketing
• Search Marketing/SEO
2011 Highlights
Rosetta was acquired by Publicis Groupe and will continue to operate as an independent brand within the Publicis Groupe of global agencies.
Rosetta was ranked by Ad Age among the top U.S. digital agencies and was recently named the #1 Agency to Watch in Ad Age's Agency A-List.
Business Development Contact
For new business inquiries please contact ­Shannon Hartley, Managing Partner at: Shannon.Hartley@rosetta.com
WorldOne Interactive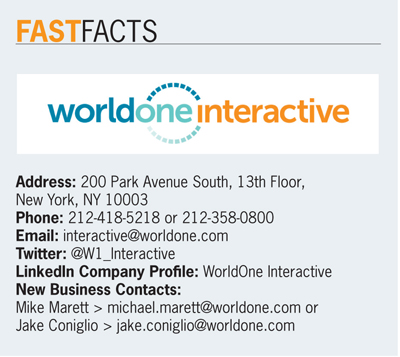 Company Profile
WorldOne Interactive is bringing innovative engagement technologies, global scale, and powerful intelligence to digital healthcare marketing.

Global Scale > Social Collaboration > Targeted Engagement
Proprietary platforms and cutting edge curated social channels empower healthcare brands to communicate with our growing Global Networked Community comprising over 1.6 million healthcare professionals spanning 80 countries, including more than 300,000 verified US physicians and 1 million US healthcare professionals.

Worldwide Access > Crowd-Sourced Knowledge > Real-Time Data
As a division of WorldOne, Inc., the global leader in healthcare data collection, we leverage 11 years of experience and analytical firepower to deliver real-time insights and an inventory of understanding to client campaigns. Our communication solutions drive targeted, iterative engagement by creating immersive educational forums for healthcare professionals.

Data Driven Innovation > Competitive ­Education > Repeat Engagement
At WorldOne Interactive, we use our own products to substantiate opportunity and support ­development of unique engagement solutions; we 'eat our own dogfood!'

For instance, we used MedLIVE™ to learn that:
• 82% of global MDs are interested in competing with domestic and international peers in online gaming environments as a way to uncover healthcare news and learn about healthcare trends
• 84% think that forecasting future events would be a particularly valuable source of learning
• 82% place high value on the opinions of MDs that their colleagues trust (friends of friends)
• 80% find anonymously posted content to be highly unreliable

MedLIVE™ (MedLIVE.com) is the fastest and most cost-effective HCP market-intelligence platform, which healthcare brands and agencies utilize to glean real-time insights from our Global Networked Community; MedLIVE™ delivers FastResponses to brand's questions within hours.
Services and Offerings
Our suite of differentiating engagement services and tactical programs can be applied locally or globally to increase the reach, engagement ­activity, and peer influence of customer segments across categories. To learn more about how our unique approach, customized services, and proprietary tools can add value to your HCP engagement strategies—get in touch!

Introducing:
• MedLIVE™ Real Insights > Real Fast
• MedNOW™ Point of Learning Messaging
• MedTHRED™ Social Signaling
• DocTANGO™ Makes Brand Science a Sport
Scroll down to see the next article