July 05, 2016
Havas Lynx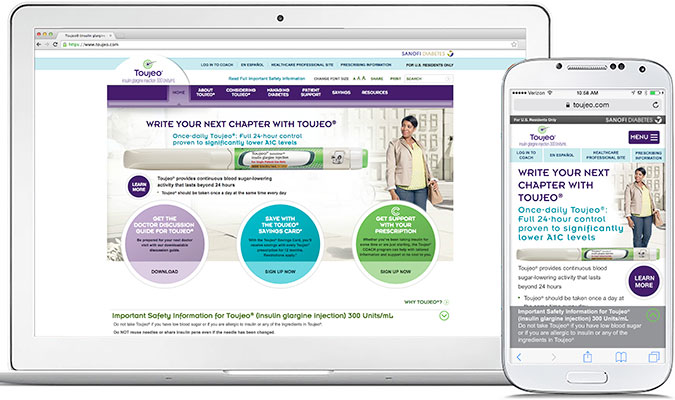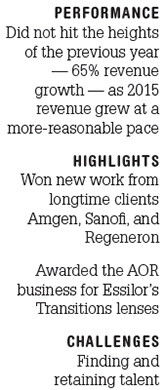 Talking to Havas Lynx is always a trip. Under the stewardship of president Larry Mickelberg and chief creative officer Erik Mednis, it has gained a reputation for pushing the boundaries of innovation. This time around, they have tales to share of their adventures in connected health, personalized medicine, cognitive computing, and music therapy.
First things first. Havas Lynx was unlikely to duplicate 2014's huge growth of 65% — and didn't. "Last year was about continuing to be excellent, but at a more-reasonable pace," says Mickelberg, who declines to reveal specific numbers. "The focus was on servicing that growth."
The firm won new work from longtime clients Amgen, Sanofi, and Regeneron and was awarded the AOR business for Essilor's Transitions lenses. "That was a great fit for us and a really good validation of where we've been transitioning and repositioning our business, which is at the intersection of health, wellness, and lifestyle," says Mednis.
Havas Lynx also pulled off some impressive work for the Cleveland Clinic, digitizing a paper-based diagnostic protocol for MS sufferers. "Several research hospitals are a part of the program, and they're all sharing anonymous data collected by the tool with a cloud project that's available to researchers across the country," Mednis continues.
In 2016 Havas Lynx has been evolving its positioning around being "creative innovators" and occupying unclaimed space in the market for an innovative consumer-focused health and lifestyle expert. The firm has built out service areas and done smart work in connected health, personalized medicine, and cognitive computing, the latter chiefly through its partnership with IBM Watson.
"Drawing from a wide range of patient types and data, we can create real-time, much more personalized interventions," says Mickelberg. "In the case of Watson, we're finding nearly limitless opportunities. I can tell you that more than one client will take advantage in terms of creating differentiated customer experiences in healthcare and pharmaceuticals. It is going to be a very big part of the future of our agency and of this business."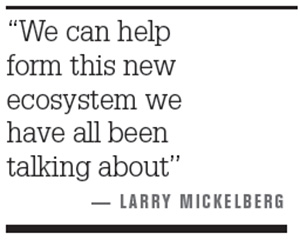 Havas Lynx is also working with one client on a smart-home project, using Amazon Echo and other devices to create "a completely new kind of patient experience," Mickelberg says. He adds the agency is moving "aggressively" to identify ways to partner with Universal Music Group (with which Havas has some shared ownership) in music therapy and the creation of differentiated brand experiences through music.
Mickelberg reports, however, that finding talent remains as difficult as ever. "There are more opportunities than there are qualified people. When you think about the kind of work we do, we're competing not just with other health agencies but with Face­book and Tumblr," he says.
Mednis says the firm has a couple of big launches coming up in the next year or two. As for industry trends, he expects to see "a lot more interconnections between partners and players that didn't typically play together before."
Mickelberg, for his part, believes Havas Lynx has the deep understanding to promote those new partnerships. "We can help form this new ecosystem we've all been dreaming about."
Scroll down to see the next article