July 24, 2018
Huntsworth PR revenue falls as Grayling 'eliminates' unprofitable client contracts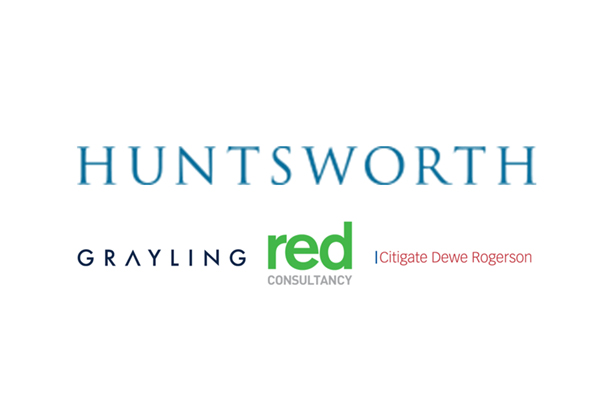 Revenue in the Communications division – which also includes Red and Citigate Dewe Rogerson – was £36.3m ($47.5m) in the first half, against £38.8m ($50.7m) in the same period last year.
Operating profit in the division also fell, to £2.7m ($3.5m) against £3.3m ($4.3m) in the first half of 2017, which Huntsworth said "includes some further restructuring costs". Margin in the division was 7.4%, down from 8.4% in same period last year.
Like-for-like revenue at Grayling fell 7% to £19.1m ($25m), resulting in a loss for the period of £0.3m ($0.4m) against a profit of £0.4m ($0.5m) in H1 2017.
Huntsworth cited a decline in profitability in: Grayling Europe; one-off contract profits in the Middle East last year; and restructuring costs of around £0.4m ($0.5m) accounted for in the period. These factors offset improvements in profitability in the UK and US.
"Action has been taken in Europe and we anticipate the second half of the year to be significantly more profitable than the same period in 2017," the company stated.
Grayling saw "strong single digit growth" in the UK, CEO Paul Taaffe said.
At consumer PR shop Red, like-for-like revenue fell six per cent. Huntsworth said this was expected, following the loss "via a procurement-led process" of its largest client in H2 2017. Margins held at 20%.
"Good client wins since have underpinned the business, although they do come with some working capital costs, and we anticipate a return to growth in 2019," the firm stated.
Citigate Dewe Rogerson performed more strongly, with revenue broadly flat at £10.7m ($14m) and profit up sharply by 26% to £1.7m (£2.2m). Margin rose to 16.2%, against 13% in the same period last year, due to last year's restructuring and the focus on more profitable clients, Huntsworth said.
All business units at the agency "made progress" except for the Netherlands, "where the transaction environment was softer than last year".
Across the group, pre-tax profit (minus factors such as acquisition and disposal costs) rose 9% to £11m ($14.4m) on revenue up 8% to £102.2m ($133.7m).
Growth was strongest in the Medical arm, where revenue grew 16% to £15.6m ($20.4m) and operating profit up from £2.7m ($3.5m) to £3.6m ($4.7m). Huntsworth said it built on new client mandates won in late 2017.
Revenue in the Immersive division increased 11.1% to £17m ($22.3m), but in the Marketing arm they fell 8.5% to £33.3m ($43.6m), linked to "tough comparatives", delayed client project expenditure and "the loss of certain drug mandates due to regulation and competition".
The company said it "continues to have an active pipeline of small-scale M&A opportunities that it will monitor into the second half of the year".
It followed its investment in AboveNation Media, the New York-based full-service media strategy, planning and buying agency, earlier this year. Just over a year ago Huntsworth announced the acquisition of WRG owner
The Creative Engagement Group
from private equity firm LDC.
Taaffe said: "Huntsworth has made strong progress in positioning itself within the healthcare market and meeting the changing needs of clients following the successful acquisition of Giant Creative Strategy LLC, as well as the integration of The Creative Engagement Group and AboveNation Media LLC and further investments in all the Healthcare divisions.
"Amid tough comparatives, the group has performed well, with strong growth in headline profit before tax. We are well positioned for further growth in the second half and into 2019."
Huntsworth this morning announced it had increased dividend payments by 27% to 0.7p per share.
Scroll down to see the next article