January 17, 2014
McCann vet Piasecki in dual role at inVentiv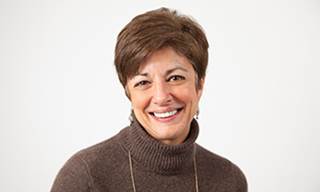 Marci Piasecki, whose name has been synonymous with Interpublic Group's McCann for two decades, and who most recently headed North American healthcare, has left that network to take on a dual role within and across the inVentiv Health network. She began the job two weeks ago, and inVentiv is expected to formally announce the hiring on Monday.
As president of inVentiv's GSW East, Piasecki is now responsible for overseeing GSW's New York City and Newton, PA, offices. She also serves as managing director of inVentiv Health Communications (iHC) Media 360 and inVentiv Creative Studios (iCS), a role that has her leading shared services in media planning and production/studio, respectively, to be shared by all inVentiv agencies including sibs Palio+Ignite and Navicor.
McCann Health has yet to name a new regional director of North America.
In her previous role, Piasecki was responsible for five agencies: McCann Torre Lazur (MTL), McCann Echo Torre Lazur (METL), McCann RCW, McCann Healthcare and McCann Managed Markets. The only agency boss in McCann Health who didn't report to her was Andrew Schirmer, who headed DTC shop McCann HumanCare. (In an unrelated move, Schirmer was promoted to president, McCann Global Health, in December. That shop is now led by Leo Tarkovsky.)
Piasecki led the restructuring and rebranding of the agencies in the McCann Torre Lazur Group, and guided multiple shops through significant transformation and expansion, all while maintaining "healthy, double-digit" growth, according to an inVentiv statement.
MTL, for instance, posted 15% growth in 2012 and was tracking at least that high for 2013, MM&M reported in July. Ditto for METL, while McCann Managed Markets told MM&M its 2012 revenues were flat.
"I'm very comforted in knowing I had a great succession plan in place at McCann Health across all the agencies," Piasecki said, adding, "They're in a really good place." Before she left, Piasecki promoted Bill McEllen to president of MTL and METL.
As for the dual role, Piasecki said, "It actually gives me the opportunity to utilize skills I had from various positions across [MTL] over the years—particularly when we look at shared services; that was a big initiative for us, and pretty much all agencies across McCann—and looking at GSW, to make the most of our brain trust, as well as our back-end services and creativity in a cost-effective way for our clients."
She now reports to Joe Daley, president of GSW. In a statement, Daley called Piasecki "a skilled industry veteran who possesses all the leadership characteristics that we value as an agency."
The agencies under her purview still reside under the day-to-day leadership of their respective account and creative leads: Susan Perlbachs, EVP/executive director, Kevin King, EVP/GM, and Nic Capanear, EVP/executive creative director (GSW NY); Kate Lontchar, SVP/managing director, and Gene Black, SVP/group creative director (GSW Newtown); Jeff Stauffer, SVP/managing director (iCS); and Ryan DeShazer, EVP/managing director (iHC's Media 360).
Of GSW, whose clients include device maker Stryker as well as pharma companies like Eli Lilly and Takeda, Piasecki called it "a well-established brand" with potential yet to be tapped. "I am really excited about…what they've done to date, and I'm just here to tap all the potential and go from great to greater."
Scroll down to see the next article