October 14, 2015
Medical Advertising Hall of Fame names 2016 inductees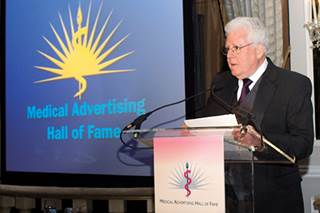 The Medical Advertising Hall of Fame announced two new inductees, C. Marshall Paul and Scott Cotherman, and named Ken Begasse Sr. the recipient of the 2016 Lifetime Achievement Award.
The inductees will be honored at The Pierre hotel in New York City on Feb. 11.
Marshall Paul was the president of agency Healthcare Communications, which was sold to ACNielsen (now Nielsen) in 1997. He began his career at Merck as a market research analyst and is known for his work researching the effectiveness of different types of promotion.
Scott Cotherman is known primarily for his role as CEO of CAHG (formerly Corbett Accel Healthcare Group), where he spent 15 years. Under his leadership, CAHG partnered with TBWA/WorldHealth, a sister network within the Omnicom Group. He eventually was named chairman of the network, which spanned 48 offices in 36 countries.
Ken Begasse Sr. held numerous agency roles during his 37-year career, including stints at Sudler & Hennessey, Lowe McAdams, Nelson Communications, CommonHealth and MBS/Vox before co-founding Concentric Pharma Advertising (now Concentric Health Experience) with his son.
Scroll down to see the next article