June 17, 2015
MM&M's guide to the sessions at Lions Health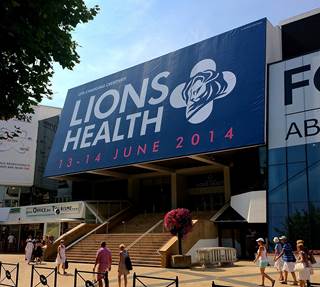 Maybe you're a veteran of the healthcare industry who's jetting over to the French Riviera solely for Lions Health. Or, perhaps you're from outside the industry but wondering what all the fuss is about. Either way, our guide can help you make the most of the sessions at the Palais des Festivals during Lions Health June 19-20.
The Generalist
Enhance your understanding of the complexity of healthcare marketing by learning more about legacy industry issues like how to navigate strict regulatory environments. Make sure to also spend time in sessions discussing the potential of wearable technology and the future of digital health and creativity in markets outside of the US.
Day 1
Fighting for your creative life: Let the inspiring words of two artists and a McCann Health executive kick off your weekend at Lions Health. 935-1030
Glamorous media brands are the new frontline in patient communications: Hear Cosmopolitan editor-in-chief Louise Court make the case for empowering women as the healthcare decision makers for their friends and family. 1150-1210
Why pharma hates advertising, and why advertising hates pharma: Executives at BBDO New York, Genentech and HealthWork are set to explain why. 1245-110
Digital health transformation: empowering consumer control: Wearables are increasingly becoming part of the broader discussion about creativity in marketing. A Consumer Electronics Association executive forecasts how digital healthcare will transform healthcare over the next five years. 200-220
Brains vs. bravery: liberating creativity despite regulatory constraints. Find out how highly regulated industries can still propel creativity for brands. 340-400
Day 2
Embracing popular culture to drive healthcare brands: Even a specialist needs to learn about how brands can access broader trends in popular culture beyond the traditional healthcare conversation. Hear what executives at sexual wellbeing brand Durex say about doing so.
Love hurts: The GSK journey: GSK is both a pharma company and a marketer of consumer products. GSK Consumer Healthcare CEO Emma Walmsley will share the company's "brand love" strategy, which aims to elevate each global brand.
Insights with the jury: Pharma and health & wellness: One longstanding issue in pharma advertising is how creative the companies are willing to get as they battle regulatory constraints and conservative cultures. Did pharma win a Grand Prix this year? Hear what jurors have to say about the award winners and whether pharma's creative display in 2015 was different than 2014.
East meets West: How global insights are leading to innovation in healthcare communications: See work that shows how technology and social media are breaking down geographic boundaries and what this means for both health and wellness brands as well as pharma brands.
How can creativity generate positive change to save children's lives?: UNICEF officials will discuss how partnerships between governments, the private sector and nonprofits can drive behavior change that can positively impact global public health issues, such as Ebola and HIV/AIDS.
The Specialist
You've worked in pharma for years and have a deep understanding of the industry's limits and successes as they pertain to creativity. This year's festival provides a wide range of opportunities to better understand new factors at play: the millennial doctor, the caregiver and not just the patient and the role of data.
Day 1
Paging Dr. Millennial: Rethinking healthcare communication for next-generation physicians: Find out how millennial doctors are reshaping medical practice in the US as well as their views on the pharma industry.
Lies, damn lies and statistics: All specialists need to understand the role of data and analytics can play in identifying the best ways to understand patients.
The era of small wins: Making health data actionable: Here you are again learning about the role of data. Hear WebMD talk about how data doesn't always drive behavior change. So, what else is needed?
Creativity and the caregiver—giving a voice to the overlooked consumer. It's not enough to better understand the patient and the new generation of physician. Today's specialists also need to address the powerful role of the caregiver.
Achieving the impossible: How to make consolidations work: Here's your chance to listen to executives at Pfizer and Omnicom Group talk about the way they service clients and coordinate agencies across a global holding company.
Day 2
Disruption and innovation in healthcare: Hear the CEO of bone reconstruction company talk about bringing to market disruptive medical technology.
Viagra. Arousing a pharma icon in a rapidly changing landscape: The patent expiration of Pfizer ED blockbuster Viagra was one of the closely watched examples of an issue affecting the industry as whole. Learn how the brand team sought to position Viagra as a global icon.
The right care, the right time, the right price: Another day, another data session for the specialist. Learn how data is driving new experiences for the patient across the health system spectrum, including how data is shaping discussions about the price of medical care and products.
Insights with the jury: Pharma and health & wellness: Did pharma win a Grand Prix this year? Hear what jurors have to say about the award winners and whether pharma's creative display in 2015 was different than 2014.
Standing out but not alone in the age of integration: The marketing lines between medical devices, drugs and services are blurring. Find out why Johnson & Johnson believes manufacturers should coordinate their communications.


Looking for more Cannes Lion coverage? Here you'll find daily news of the latest trends, themes and chatter around creativity in healthcare, live from the south of France during the two-day festival.


Scroll down to see the next article