February 06, 2012
Mobile: Get Smart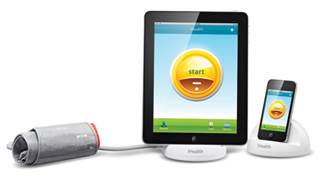 Click here to see all of the stories from the 2012 Interactive Guide
It's amazing what you can do with mobile these days. So isn't it time you did something amazing with mobile? James Chase charts the data points and the pain points
When reviewing a trend as fast-paced, as universal and as monumental as mobile, it is almost impossible to set the scene without a firing off a fusillade of figures. In the interests of saving space, you can find many of these data ponts in the sidebar (below).
In 2011, already more than 80% of US physicians owned a smart phone and, by now, an estimated 60% also use an iPad, while at least 40% of US doctors claim to go online during patient consultations, mostly with smart phones (Manhattan Research).
And among the general population, Google predicts that in 2012, for the first time ever, there will be more smart phone shipments than PC shipments in the US.
Mobile platforms are tailor-made for healthcare. "Mobile offers tremendous contextual cues that can connect with consumers in retail, in physician offices and throughout the day to help direct them to Rx brands and manage their health," notes Martin O'Brien, partner at Rosetta.
The iPad opens up further possibilities for physicians, allowing them to show images and video clips to patients, and to more easily write clinical notes and check patient records.
It's not enough for pharma to just have a presence, of course. Amy Cowan, former head of industry, health, at Google admitted last year that 79% of Google's advertisers did not have a mobile-optimized website. On the HCP side, 52% of Manhattan Research's ePharma Physicians say it's important to access the same information across all screens. And while 38% of these docs have been detailed, face-to-face, using an iPad, only a third found it a "better" experience than with conventional media and materials. So you'd better make it a better experience. The message is: optimize, optimize, optimize.
We have seen the emergence of numerous third-party apps that turn phones into devices, many tracking health data, such as blood pressure, heart rate and glucose levels. But observers, like Heartbeat Ideas CEO Bill Drummy, think pharma needs to do more.
"In our industry, the idea that a pharma company should be providing a higher level of service about their products through smartphone and other technologies is met with a dozen different variations of 'no'," he laments. "But why isn't every responsible company producing information-rich apps that explain how to use their products to patients, HCPs, and caregivers—whether or not a patient would ever think to ask for it? We should be bringing value to them 'beyond the pill' using technology to enhance the patient experience at every turn."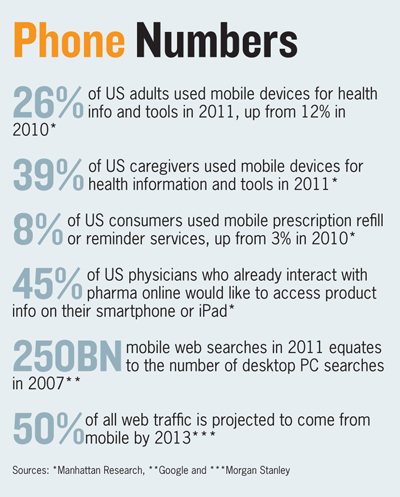 Scroll down to see the next article