July 05, 2016
Ogilvy CommonHealth Worldwide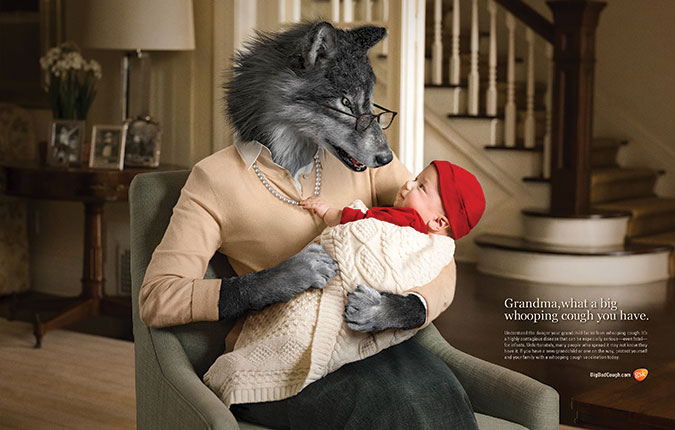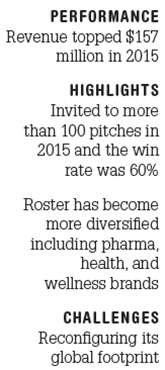 To maintain your status as one of the largest and most established agency players in the game, you need to behave as if you're anything but. You have to think quickly and decisively, plan intelligently, move nimbly, execute creatively — and collaborate effectively. You need a sense for when change is required, and when it isn't. And you need to know when to think bigger and when to act smaller.
Ogilvy CommonHealth Worldwide seems to have it figured out. The WPP-owned healthcare marketing giant says 2015 ranked as one of its best years in the past decade, though its leadership declines to share specific information about revenue, headcount, or clients. "The U.S. business in particular was very strong and continues to be the driver of the network," says Matt Giegerich, chairman and CEO.
Much of the growth, says OCHWW, came from an expanding client base. "In my 12 years here, last year was our strongest year by far for new business," reports managing partner Shaun Urban. He adds that in each of the past four years OCHWW has been invited to pitch more than 100 new opportunities and that 2015's win rate of almost 60% was among the firm's highest ever.
Again without disclosing specifics, Urban says that the company's roster has become more diversified, including biopharma companies of all sizes as well as health and wellness brands. He notes, too, that OCHWW is strategic about which assignments it chases — and which it doesn't. In 2015 the agency turned down around one-third of its invitations to pitch. "We will only pursue something if we can put our absolute best effort and our best team forward with the right expertise," he says.
Managing partner Michael Parisi reports notable growth in specialty medicine and, in particular, consumer- and patient-focused work. "It's about really understanding the journey, prior and during diagnosis, and living with the disease," he says. "We're proud of what we do here."
This shift in focus is also having a profound and positive effect on the nature of the client–agency partnership.
"The good news is they are asking more questions," says Parisi. "There used to be a lot of assumptions that [as an industry] we knew everything, but the conversation has changed to, 'We would like to better understand XYZ.' While we might not have all the answers, we know how to get to them, or help uncover them."
Along those lines, Urban reports growth around patient access and "hub" offerings — "services that help patients and caregivers secure reimbursement, educate them on products, and train them in their use" — plus increasing investment in payer marketing, payer communications, and medical affairs.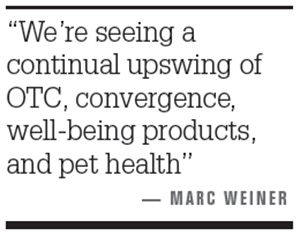 Giegerich says OCHWW is focused on helping clients achieve differentiation and create a competitive advantage. "[Clients are] fighting on clinical data levels, they're fighting on access and reimbursement levels, and the sources of differentiation start to creep further out from the product itself and into the wraparound support," he explains. "It starts with a much more complete understanding of the whole ecosystem, and then it gets into how can we affect those attitudes, beliefs, and behaviors with programmatic change, support, access, counseling, and education."
Earlier this year OCHWW launched a new entity, Nano, designed to create a more customized experience for the agency's expanding roster of small and midsize clients. "We recognized that these clients had very specific needs," says managing partner Darlene Dobry. "Nano allows us to be a little more agile and nimble, to be a little bit more adventurous and innovative."
Led by general manager Peter Rooney, Nano offers a full-agency experience. "It allows us to operate under the intensity and speed of a startup," Dobry continues, "But it also lets us tap into the deep resources and expertise of larger Ogilvy."
In response to market dynamics, OCHWW has continued to reconfigure its global footprint, now with designated hubs in New Jersey, New York, London, Paris, Singapore, and Brazil. That has meant shuttering a few of the lesser-trafficked international offices.
"When we got into the Ogilvy network, there were offices in virtually every European market and many Asian ones, often small operations that were hanging on to healthcare because the client base was empowering local countries with marketing budgets," explains Giegerich. "That has changed dramatically over the past five years. Most companies now have a much stronger, centralized global marketing function and they are looking for regional hubs capable of transcending individual country dynamics and influencing whole blocks of countries."
Among other trends, the OCHWW partners see intensified interest and activity in electronic health records. Giegerich believes the agency has a competitive edge because it works with the aggre­gators of the 250 or so EHR platforms. "When we've presented to the client the skill, ability, and the case studies that we have, we've had something close to a 100% hit rate," he maintains.
Indeed, as the definition of "stakeholder" has broadened and more companies have entered healthcare, collaboration has become increasingly crucial. A good example is OCHWW's partnership with Medikly, which has helped the firm build a cloud-based physician profiling platform by appending new sources of information to the usual HCP data — such as formulary structures, journal and article reading patterns, and registration for conference sessions.
"It blows apart the idea of segmentation," Giegerich notes. "It offers an almost-endless possibility of getting deeper and deeper behavioral and attitudinal insights to individual physicians, and it's uploaded into the cloud so it's accessible in real time for any kind of strategic query."
Managing partner Marc Weiner admits that clients are embracing collaborative innovation at varying speeds. "Clearly, some are more than willing to jump on the leading edge, while others still hold the cards pretty close to the vest," he says. "It's about culture and behaviors, and how [firms] are structured."
Other industry trends observed by OCHWW partners include greater payer influence and control, physician consolidation, the proliferation of digital tactics and strategies, and the emergence of retail health.
As for the year ahead, OCHWW is working on "a boatload of launches" and is on pace again for 100-plus pitches. "We're seeing a continual upswing of OTC, convergence, well-being products, and pet health," Weiner notes, adding that the agency is building out a dedicated animal-health division. Meanwhile, a new office is under construction in New Jersey. "It will be a very different space," Giegerich promises. "It will be more open, collaborative, connected, and creative in every way." The move is planned for January 2, 2017.
"We're always proud when we get through another year with the same senior team," says Giegerich. "We feel good about what we did and where we're going."
Scroll down to see the next article