February 03, 2012
Overview: A Movable Feast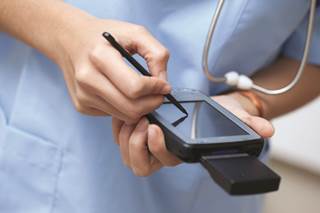 Click here to see all of the stories from the 2012 Interactive Guide
Marketing now means digital, digital means mobile and search is no longer the starting point for online promotion. Matthew Arnold charts the trends
In 2011, digital media shifted from the horizon to the gravitational center of the marketing mix. Everybody's there all the time, doctors and patients alike, and increasingly on their phones and tablets. If you're still waiting for FDA guidance, move fast. And keep your eyes peeled—big changes are afoot.
For starters, forget everything you know about how to reach consumers, says HAVAS digital chief Larry Mickelberg—in the future, context is king.
"What we're going to start to see is a pretty profound move away from search in favor of display, and the reason for that is that contextual discovery is the new search," says Mickelberg. "It will begin to be the way people traverse digital."
Advances in targeting are making possible a kind of associative advertising, says Mickelberg.
"We just know a lot more about our audiences than ever before. For many years, we said digital starts at search. Now, people will find contextual things, branded content and ad units, that will lead them on to the next thing. That's not to say search isn't still important, particularly for people just starting out on their health journey, but we'll now capture them later on and engage them in a variety of ways."
Nearly half of all Americans—147 million of us—looked up health info online in November, according to comScore, and around 17 million did so via a mobile device (Manhattan Research estimates that 26% of US adults used mobile phones for health information and tools in 2011—more than double the 12% that did so in 2010).
Also expect this to be the year that people will start getting annoyed that you don't have mobile versions of your web properties," says Jonathan Richman of Possible Worldwide and the Dose of Digital blog.
While consumers have cut mobile-inaccessible sites some slack in the past, they'll now shun them in favor of mobile-optimized competitors, says Richman.
"More and more, digital means mobile," says Mickelberg. "When all of our audiences are equipped with mobile devices, then that becomes the most important channel we've got as communicators and marketers in that space."
Docs overscheduled, increasingly digital
Meanwhile, 81% of physicians now own a smartphone, according to Manhattan Research, with more than half of those docs using iPhones and upwards of half expected to own an iPad this year.
Spending on ePromotion—defined as e-details, online meetings and other web-based promotional activities for physicians—dipped 3% in 2011 to $468 million, according to SDI data, following flat spending in 2010. The drop was driven by the two top ePromotion spenders—Pfizer, whose spend dropped 12% to $64 million, and Merck, which reduced spending 43% to $40 million. The slide may be a function of fewer launches and the patent cliff.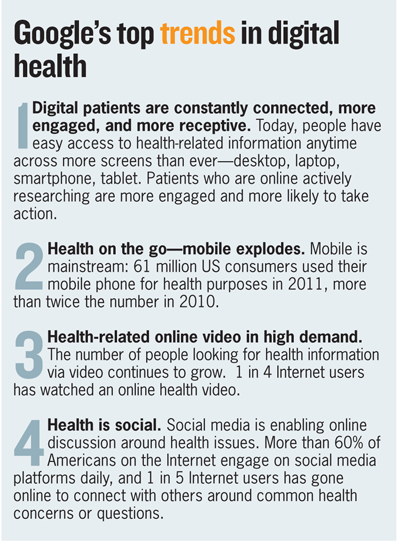 According to Manhattan Research's ePharma Physician survey, 87% of US practicing physicians interact regularly with pharmas through digital channels, whether by visiting brand.coms and company websites or participating in e-details. These physicians prefer to get product info online by a wide margin and many say mobile (45%) and multi-device access (52%) to that info matters to them. As of June, 38% reported seeing a rep use an iPad or other tablet in a face-to-face presentation within the past 12 months.
The use of online video conferencing for doctor-patient consultations remains small, but should grow rapidly in the next few years. Seven percent of physicians now communicate with patients that way, with psychiatrists and oncologists leading the way. But concerns about reimbursement, liability and HIPAA hold back many physicians from such interactions.
"We're finally seeing a big change in how pharma looks at its relationships with physicians," says Manhattan Research president Meredith Ressi. "We've been talking about a service focus for years, but companies are now stepping back and looking at how much physicians' lives have changed. They're so busy, so overworked.… The old 'Three points and a close' approach to sales is so at odds with physicians' lives today. It's truly more of a service approach now."
That means, in part, a greater emphasis on reaching other players in the care continuum, says Ressi. Nurse practitioner and physician assistant numbers are soaring in response to an aging population and declining numbers of primary care physicians (the nation's 93,000 PAs write 332 million prescriptions per year, while the 148,000 US NPs write over 590 million, says Manhattan Research).
"It's understanding the whole healthcare ecosystem," Ressi notes— "what's going on with office managers, the role of nurses, NPs and PAs. Pharmacists and pharmacies are getting a lot more attention as pharmas are making a big push into healthcare delivery. "
Still searching for a social anxiety cure
This will be the year the industry gets some long-delayed guidance for communicating with consumers online and through social media, sources say. It's looking like that guidance will be largely nonspecific and to call on industry to exercise judgment in its online communications.
That was the main theme of FDA's first draft guidance touching on these topics, concerning unsolicited requests for off-label information about drugs and devices, which was issued at the end of last year. As ex-FDA associate commissioner Peter Pitts put it, "It isn't a question of platform-specific guidance. Rather, the FDA is asking industry to use their best judgment in this new and, well, emerging media."
Pitts' interpretation tracks with statements made by FDA Office of Prescription Drug Promotion director Tom Abrams saying, in essence, that the agency expects pharmas to act according to the spirit of FDA guidance governing communications through traditional media, and that industry shouldn't expect FDA to paint a bright line for them on platforms that, though all the rage today, might become old hat.
That means companies holding back their online and social media communications for FDA regulatory guidance no longer have any excuse to opt out. And with Facebook pages and Twitter feeds now serving as the front door for consumer-directed brand communications, they can't afford not to. When Facebook announced it would force pharmas to open up their comments sections last summer, a number of companies shuttered brand pages on the social network, fearing that adverse events reports or discussion of off-label uses could get them in trouble. Others simply upped their social media monitoring budgets, accepting it as a cost of doing business in a mediaverse where one-way communication is going the way of the dodo.
Boehringer Ingelheim's pioneering digital-forward Drive4COPD campaign offers an excellent primer in the value of social media for disease education. Launched in February 2010, the effort leveraged partnerships with NASCAR and the Country Music Association (CMA) along with celebrity ambassadors to raise awareness of the disease and drive more than 1.5 million Americans to get screened. But it was in its full-spectrum embrace of social media that the campaign really shined.
In November, the campaign held a "Screen-Off" urging all Americans over 35 to take an online screener to determine whether they might be at risk for the disease, which affects as many as 24 million Americans, half of which are thought to be undiagnosed. The effort got a huge boost from a Drive4COPD celebrity ambassador "Tweet-Off," urging fans and followers to take the screener; a plug from Bruce Jenner that was re-Tweeted by his stepdaughter Kim Kardashian, one of the monsters of Twitter followerdom; and a cascading wave of celebrity shout-outs that drove the Twittwer follower count to 60,000 along with 5,000 Facebook fans.
Boehringer's partners in the campaign amplified that by tapping their own massive social media followings. YouTube and Flickr pages racked up the views, too, and a user-generated content contest with the CMA, dubbed Tune Up for COPD, netted 150 entries, 11,000 votes and 40,000 views.
BI's Kathleen Dowd, VP respiratory, says the company weighed the risks of operating in largely uncharted regulatory waters before jumping in.
"Where we ended up was thinking there will be a path forward and let's do right by our customers. The benefit outweighed any potential risk in an area like COPD, which is really underserved," she says. "I don't want to say it was easy to engage them, but it was easier than we'd thought."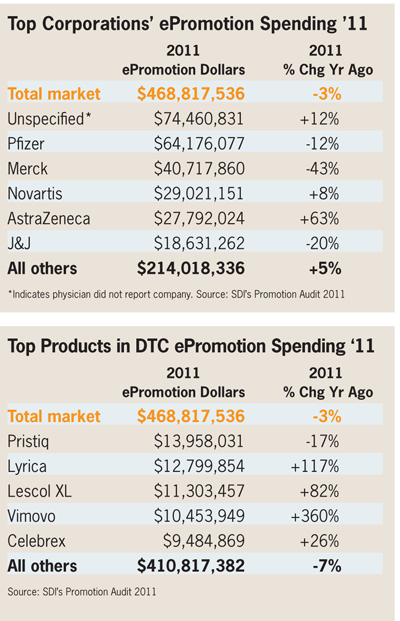 Scroll down to see the next article