July 05, 2016
Renavatio Healthcare Communications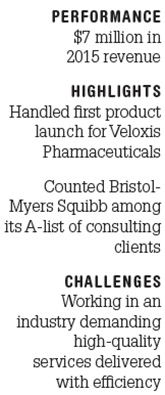 The push and pull between network agencies and independents is a dynamic generations old. There are arguments to be made for either structure — and each side is always keen to argue its case. But the fact that some pharma companies only work with network shops kind of ends that argument, doesn't it?
Sheila Gerus, co-owner and managing partner of the independent Renavatio Healthcare Communications, disagrees. "There's still a very strong place for independent agencies — not just for smaller clients, but for larger clients, too," she says. "Despite the palette of agencies they have to choose from, we still get work from them. As the bar has been raised in terms of demanding high-quality services delivered at an unprecedented level of efficiency, there's still room for independent agencies to provide that. There is opportunity."
That David–Goliath dynamic can be unkind to the Davids, certainly — Renavatio lost Novocure's Optune business because the client wanted a vendor with a footprint in Europe and Asia — but it doesn't always play out that way. Gerus explains that other clients with similar requirements continue to call on Renavatio to handle specific issues "that their agency can't deliver on." Renavatio enjoyed several successes along those lines in 2015, notably handling the first product launch for Veloxis Pharmaceuticals (Envarsus XR, for treatment of kidney-transplant patients).
"We've been more deliberate about identifying target clients," Gerus explains. "The types of wins and growth that we've seen are not unexpected."
The targeted approach has paid off, she adds, noting an influx of clients who have responded favorably to the fact that Renavatio "is very good technically at dealing with the weird and wonderful." She touts a range of assignments, on everything from clinical trials to new technologies.
The results Renavatio has produced, and the targeted approach that generated them, are an outgrowth of the structure that Gerus and Renavatio co-owner and managing partner Larry Iaquinto developed. While the 29-person agency deals primarily with standard AOR assignments touching on product and corporate branding and communications, about 20% of its business comes from consulting, a key offering since Renavatio's inception in 2007. Some pharma/healthcare entities tap the firm for both capabilities, but about three-quarters of its clients ask it to handle one function or the other. It counts Bristol-Myers Squibb among its A-list consulting clients.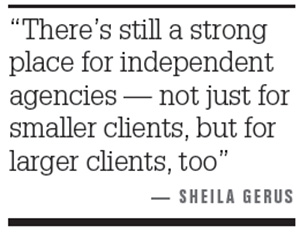 Renavatio's cache of clinical scientists and product-development specialists work alongside client teams early in the development process. "Bridging the gap between registration and commercialization is a major focus for us." Gerus says. "What you do up front really makes a difference to what you end up with."
Gerus believes that Renavatio's high-science, pre-clinical expertise will continue to prove vital for its clients, particularly in the face of industry pressures. "With increasingly genericized categories, you have to be a lot more clever to figure out how to find value and fit into an existing mind-set. Some categories are on autopilot, and it takes a lot to shake that loose."
Gerus says that this is where the agency's consult­ing experience comes into play. "How you can alter the course of the treatment of a disease needs to be built into the design of trials," she notes. "With the push to value-based care increasing, it's becoming more important."
Scroll down to see the next article