April 16, 2014
Star Group merges with Vox Medica, Calcium NYC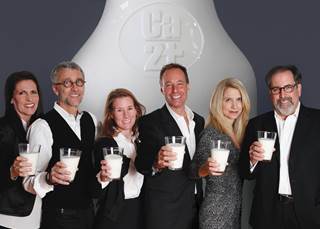 Philadelphia indie network Star Group announced it has merged with healthcare marketing agencies Vox Medica and Calcium NYC. The group has also added Vox Medica's parent company, Independence Healthcom Strategies Group (IHSG).
The new team will be known as Calcium, with Star Group as its holding company. The agency is comprised of Star Group's healthcare division—Star Life Sciences—as well as Calcium NYC and Vox Medica.
Star Group Managing Partner and COO Timmy Garde said of the merger, "This new organization represents a dream-team approach.
"Our highly complementary strengths allow us to put numbers on the board for our clients immediately. Calcium's strategic and creative capabilities, combined with Vox's medical and scientific knowledge base, Star's best in class digital and channel management, and a world-class advisory board of industry leaders make us an agency that's superiorly equipped to help clients dominate in these challenging times."
The "dream team" will be managed by Group CEO Steven Michaelson, previously head of Calcium NYC, and formerly of Rosetta Wishbone. Calcium NYC was formed by Michaelson in February of last year, with an office in midtown Manhattan.
"As a result of this merger we have developed an agency with the agility to move as quickly as today's rapidly evolving healthcare industry," Michelson said in a release.
The management group consists of Timmy Garde as managing partner and chief operating officer, Lorna Weir as chief strategic officer, Renee Mellas as president, Steve Hamburg—formerly of LLNS—as chief creative officer and Judy Capano as director of business development.
Calcium will operate out of its NYC and Philadelphia offices.
In MM&M's 2013 Agency Issue, Vox Medica's President and Managing Partner at the time, Lorna Weir, noted that the agency "wanted to be a partner to those organizations who do things a little differently, who act a little more adventurously."
A merger of this scope will likely fit both criteria. "With this combined intellectual capital, scientific depth, creative resources, and digital acumen," Weir commented, "what we can offer clients now, as one company is a very powerful proposition at a time when they need it most."
Scroll down to see the next article