July 05, 2016
StoneArch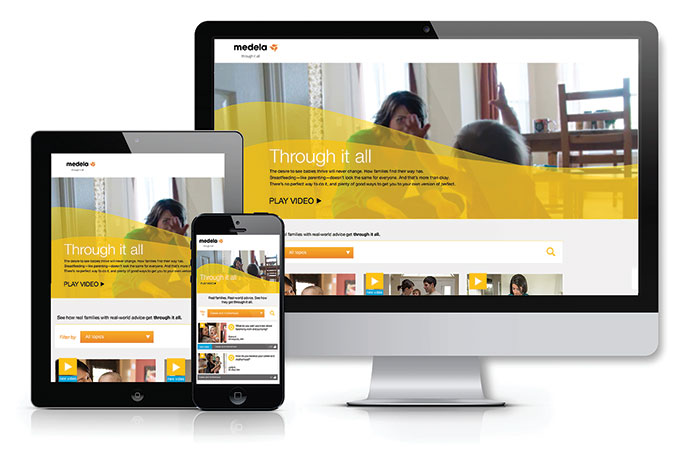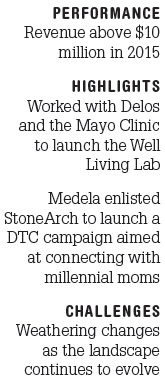 Minneapolis based StoneArch has long been given high marks for its work in the medical-device space. But while devices certainly contributed to the bottom line in 2015, the agency counted among its 10 new clients several outside that traditional area of strength, among them Step One Foods, wellness-focused real estate company Delos, and breastfeeding pump maker Medela.
The agency reported revenue growth to north of $10 million in 2015. Per StoneArch president Jessica Boden, 82% of the growth came from new clients and 18% came from existing accounts — like spine-surgery platform NuVasive, for which StoneArch is reworking the company's positioning.
StoneArch worked with Delos and the Mayo Clinic to launch the Well Living Lab, a research lab dedicated to studying indoor environments and developing healthy indoor spaces. For Step One Foods, which makes therapeutic foods designed to lower cholesterol, StoneArch is developing consumer- and physician-focused messaging and marketing campaigns. And with the Affordable Care Act now giving new mothers access to free breastfeeding pumps, Medela has enlisted StoneArch to launch a DTC campaign aimed at connecting with millennial moms.
New clients notwithstanding, StoneArch has continued to focus on two practice areas: meetings and events, and marketing and learning. Taken together, the two areas comprise everything from nuts-and-bolts research and strategy work to more advanced broadcast and instructional design components.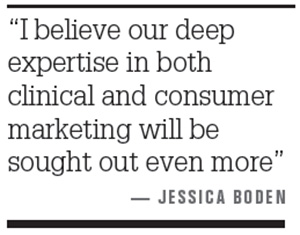 The agency also remains committed to charitable endeavors. Every year since 2013, the agency has participated in a 24-hour "RedEye Rebrand" on behalf of a nonprofit group. Last year StoneArch partnered with Magic Arms for the World, which provides 3D-printed technology to assist children with debilitating neuromuscular arm impairments. After a 24-hour creative session, StoneArch presented the organization with communications recommendations, videos, a logo, a brand identity, a website, and a social media toolkit.
"We've introduced the concept to other agencies. At least four have duplicated it," Boden enthuses.
Internally, the agency shrank in headcount — to 36 full-timers, from 40 at the end of 2014. The company nonetheless added several staffers (two full-time writers, a designer, and a project manager) and promoted three others. Phil Hoch is now executive creative director, Katie Uphus senior director of operations, and Cassie Benowitz VP of strategy and planning.
"We shifted our approach to an account strategy and planning model," Boden says of the executive reshuffle. "We eliminated the role of director of client service and created the new role of director of account planning."
Boden says she expects continued growth at StoneArch for the rest of 2016. "I would say our philosophy is to take control of growth," she says. "As the landscape continues to evolve, I believe our expertise in both clinical and consumer marketing will be sought out even more. We love having that balance because it helps fuel insights into everything we do."
Scroll down to see the next article