August 01, 2015
At Work With Brian Crooks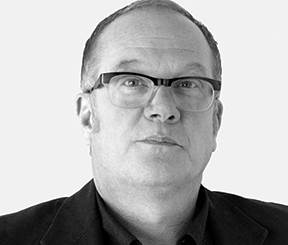 What was your big break?
In the earlier days of digital marketing there were no "natives." I was asked to join the interactive digital arm of what is now known as Digitas to help with the Neiman Marcus e-commerce site design. It seems all of their senior art directors had never done a photo shoot before my digital prowess. I knew my way around Photoshop. And I'd done an actual shoot.
What is the best or worst part of your job?
The best part is very simple: Being a nonlinear thinker. I think in most other jobs I'd be fired for it. The worst part is navigating the odd bit of politics when it pops up. I'm no Donald Trump.
Whom do you most admire in this line of work?
The people I most admire are those new to this madhouse. They always deliver the element of surprise.
What is the view like from your office?
Officially I have no title and in reality I have no office, so my view is of everyone I work with. Beats a bird's-eye view of taxis behaving badly.
How long is the typical client meeting?
The longest ones are usually the best. Photo shoots, brainstorming sessions—any time we're working together. Sometimes a meeting may involve beer and those are pretty good as well.
Does your office have a regular lunch or after-hours place?
On good days I get to take my motorcycle to work so my favorite spot is any place far enough to ride to and back in an hour.
Did college prepare you for your role?
I was lucky to have experienced three colleges in my quest for understanding how to think: Boston University, Brown and the Rhode Island School of Design. Some rudimentary form of sentience is always nice to have embarking on a career. My degree is in semiotics and has always served as a great conversation starter.
What books are you currently reading?
Horologicon and Etymologicon, both wonderfully written about words, words we use and words we no longer use. Both sublime and absurd.
What was your greatest professional challenge?
It is, and has always been, the creative part. I'd love to be a genius but, as it turns out, I have to work at it.
Where will you be in five years?
Assuming the preppers are wrong and we don't all perish in a zombie uprising, I'll be listening to people telling me what they need. Healthcare is increasingly in the hands of those whose health it attempts to care for. Wherever the users/clients/patients/people take it, I will gladly follow.
What is your favorite website?
My favorite industry site is LinkedIn. It's like the high school yearbook for business but with some interesting content and better photos. The Vintagent and Bike EXIF are my off-hours favorites. They are about motorcycles—something of an obsession. Hey, I don't golf or watch sports, and a boy needs a hobby.
Were you to write a book, what would its title be?
Mysticism, Barbarism and Boredom.
Scroll down to see the next article