February 16, 2016
At Work With: FreshBlood's Robert Finkel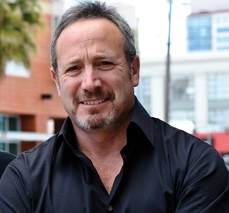 What was your biggest break?
I had been working as a copywriter for mainstream agencies and clients for several years when I came across a job posting for a copywriter position at a medical/healthcare ad agency. I found the science to be fascinating, and the tight regulations to be challenging.
Who is the person you admire most in your area of work?
I would have to give that honor to my former agency mentor and branding guru Lester Barnett, one of the co-founders of FCB Healthcare. Lester defined the concept of thinking "big picture." He was relentless in his pursuit of creative solutions, always motivated to take command of the room, and awesome to observe in action in front of a client. Although we locked horns on occasion, I have to credit Lester with instilling in me an incredible work ethic and showing me how to deliver my best thinking every single time.
What's the view like from your office/work area?
I see a huge pile of work and an empty cup of coffee.
How long is a typical meeting with clients?
I find that any meeting that lasts more than two hours tends to lose people's interest, especially the so-called creatives. Keeping the meeting short and sweet somewhat forces decisions and usually delivers more concrete results.
Where did you go to college? Did it help prepare you for your career?
I attended Pennsylvania State University. I graduated with a BA degree in advertising, with an emphasis in marketing, media, and creative strategy. Even with a degree in my chosen field, nothing really prepared me for a career in this field. [But] it certainly helped to walk away with a solid grasp of the tenets of good communications and the psychology behind how people think, feel, and make decisions.
What books are you reading?
Right now, I am reading/juggling a diverse collection of books, including An Astronaut's Guide to Life on Earth by Col. Chris Hadfield, Killing Pablo by Mark Bowden, and The Organized Mind: Thinking Straight in the Age of Information Overload by Daniel Levitin.
What was your greatest professional challenge?
My first answer would be leaving the security of a big, well-established ad agency and deciding to open my own independent ad agency.
My second answer would be deciding to launch FreshBlood Health Market Consultants. There was no playbook for what I was attempting to do with this second half of my career.
What are your favorite industry-related websites? Non-industry?
I would give a shout out to Genentech for a very progressive site.
With respect to non-industry websites, both newzealand.com and airbnb.com catch my eye for many of the same reasons I gave for the Genentech site, and not simply because I could use a vacation.
If you were to write a book, what would the title be?
Blue Is Not A Strategy: An insider's guide to biopharma branding
Scroll down to see the next article