March 28, 2013
Marketing like Mad Men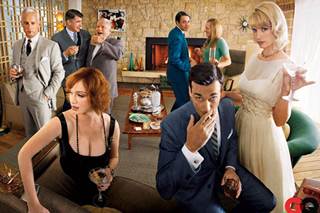 Product promotion today may be different from product promotion during the 1960s, but some things have stayed the same—and will remain forever unchanged.
How much has marketing changed since the days of Mad Men? Could Don Draper successfully launch a complex biotech brand in the challenging and sometimes restrictive environment that marketers work in today?
Making claims: Although the players in Mad Men focus mostly on consumer marketing, there were far fewer rules about language in those days when it came to promoting your brand. The senior partners of Sterling Cooper Draper Pryce would be receiving warning letters right and left if they were working under the strict FDA guidelines of today.
A single concept: Can you imagine bringing just one concept to a presentation? How bold to be so sure that you nailed it—to be confident that the direction you've chosen is absolutely the right direction to pursue. Or maybe, marketers in the 1960s found themselves without tools such as computers, Photoshop or stock art that would have allowed them to execute more than one concept for a presentation.
Buying a pitch: Apparently, a fancy meal with free-flowing booze was all it took to secure a position for a product pitch. We won't talk about what activities would be involved to actually win the pitch. Although relationships still are key, clients would rather have meaty strategic thinking over a well-prepared filet.
Pour me a scotch: Drinks at 10:00 am? Livers in the '60s must have been much heartier. Recent studies, however, have shown that beer may help the creative process. Maybe the Mad Men had it right…
Art directors who are artists: So, when was the last time you saw a marker sketch? With digital tools at our fingertips, there really is no need for traditional sketching skills. I know art directors who can't draw a decent stick figure, but do amazing work in the digital realm. Although these virtual artists wouldn't survive the ad world of the 1960s, they are taking creative work to unbelievable places.
The glass ceiling: In the Mad Men world, Peggy has to fight to earn a position and be respected as a copywriter. Today, our copy department is dominated by strong and insightful women. We are thriving despite having to find a balance between managing growing families, traveling and delivering strategic solutions in the workplace.
Mad Men may stir up nostalgia for a simpler time, but today's agencies must embrace new technology and use it appropriately to reach target audiences. The importance of bold, impactful creative remains constant; however, we now have the capabilities to adapt and personalize marketing efforts across a range of evolving media. The days of focusing solely on print advertising are over. The most successful biotech brand managers look beyond traditional marketing to a new world of possibilities that the Mad Men could not even imagine.
Although present time and 1960's time may seem as different as night and day, you can count on one thing in marketing to endure forever: Strategy rules, relationships count and bold creative will move market share.
Scroll down to see the next article