August 31, 2015
Five things for pharma marketers to know: Monday, August 31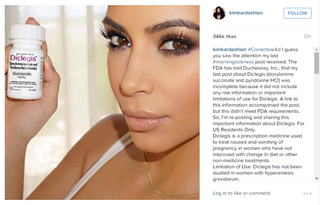 Kim Kardashian West late on Sunday posted a corrective post on Instagram, as well as a tweet linking to the corrective Instagram post that seeks to fix a previous post she made about a morning-sickness drug, Diclegis. The FDA issued a letter to the medicine's drugmaker Duchesnay that said Kardashian's previous post ran afoul of promotion regulations. She used the hashtag #correctivead in the post.
The FDA said a class of diabetes drugs called DPP-4 inhibitors are linked to severe and disabling joint pain. Thirty-three cases of severe joint pain have been reported to the FDA from 2006 to 2013, according to Reuters. A FDA advisory committee recently recommended a label change for one of those drugs, AstraZeneca's Onglyza, over concerns about higher risk of heart-failure hospitalizations.
Bristol-Myers Squibb acquired exclusive rights to the drugmaker Promedior and its lead product candidate, PRM-151, a mid-stage fibrosis drug. The experimental therapy has been awarded Fast Track status as well as an orphan-drug designation in the US.
Now that two new cholesterol-lowering drugs have received FDA approval, physicians question whether they should be prescribed off-label to patients who are statin-intolerant, The New York Times reported. The new (and costly) PCSK9 inhibitors—Amgen's Reptha and Sanofi's and Regeneron's Praluent—are not approved to treat that patient population but are approved to treat people with heart disease who cannot control their LDL.
A start-up seeks to evaluate clinical and economic marketing claims made by digital health companies, according to Fortune. The company, Evidation Health, found that many entrepreneurs founding digital health companies have backgrounds in the consumer sector rather than the healthcare sector.
Scroll down to see the next article