June 09, 2016
HealthiNation trades content for email addresses in holiday campaign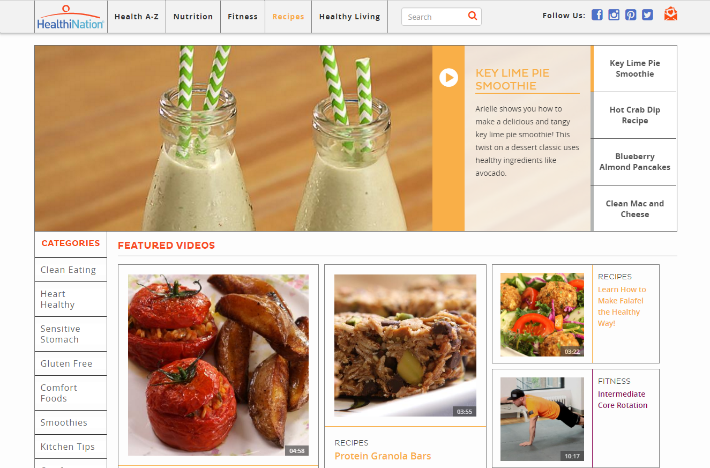 Email marketing can be an effective way to drive brand engagement and ROI—if you have someone to email, that is. But what about companies that are just getting their email programs off of the ground? Health video startup HealthiNation needed a way to boost its subscriber base after launching its first newsletter early last year. So, it relied on a reciprocity strategy in which it traded content for email addresses.
A SLUGGISH SUBSCRIBER BASE
As an online video hub that produces health content for all age groups, HealthiNation needed a way to engage its site visitors and keep them coming back for more. So, in January 2015 it launched its first email newsletter.
According to HealthiNation analyst Jasmin Khan, who joined the company that February, each newsletter contains seven videos that provide information about various health topics (e.g. recipes, fitness and nutrition advice, medical condition content), as well as written tips from health experts. These emails are usually centered on a particular theme, like an upcoming holiday or awareness month, and are sent to the entire subscriber base every Tuesday.
See also: Everyday Health looks to compete for pharma TV budgets
"The main purpose here is keeping our audience continually engaged," Khan says. "As a startup, [we're] trying to build a loyal audience of returning users by keeping them informed of any new content we have."
Less than a year into the newsletter's launch, Khan noticed that its subscriber growth rate was starting to stagnate. So, the company decided to work with its email service provider PostUp to come up with a strategy that would boost its subscriber count.
A HOLIDAY REMEDY
The companies' teams decided to launch a holiday campaign in which HealthiNation compensated customers for offering their email addresses with an interactive holiday cookbook. After providing an email address, consumers received a downloadable cookbook PDF that linked back to HealthiNation's website where users could watch videos about how to cook the recipes.
"I know people can be reluctant to submit any personal information," Khan says. "But with just an email address, we want them to feel like they're getting something really beneficial in return."
See also: Remedy Health Media names new chief marketing officer
To promote this value exchange, HealthiNation featured PostUp lightbox popups on its website inviting site visitors to enter in their email addresses. People could also opt in by clicking on the email sign-up icon on the upper-right corner of the company's website.
In addition to promoting the cookbook on its website, HealthiNation urged people to participate on its Facebook page.
HEALTHY RESULTS
The campaign ran from November 10, 2015 to January 4, 2016, and HealthiNation grew its subscriber list by 68%. In fact, Khan says that the newsletter subscriptions rates were three times higher than the weekly average in the first week alone.
As for future initiatives, Khan says that HealthiNation is brainstorming ways it can run similar programs and keep this reciprocity strategy alive. She also advises other marketers to do the same and offer consumers exclusive value that they can take away instantly.
"Seeing that this strategy—giving something to get something in return in the form of content marketing—has been a really key component of effective email marketing," she says, "and something that we'll be keeping in mind with campaigns moving forward."
This story originally appeared on dmnews.com
Scroll down to see the next article