September 15, 2015
Kim stands corrected: the limits of corrective promotion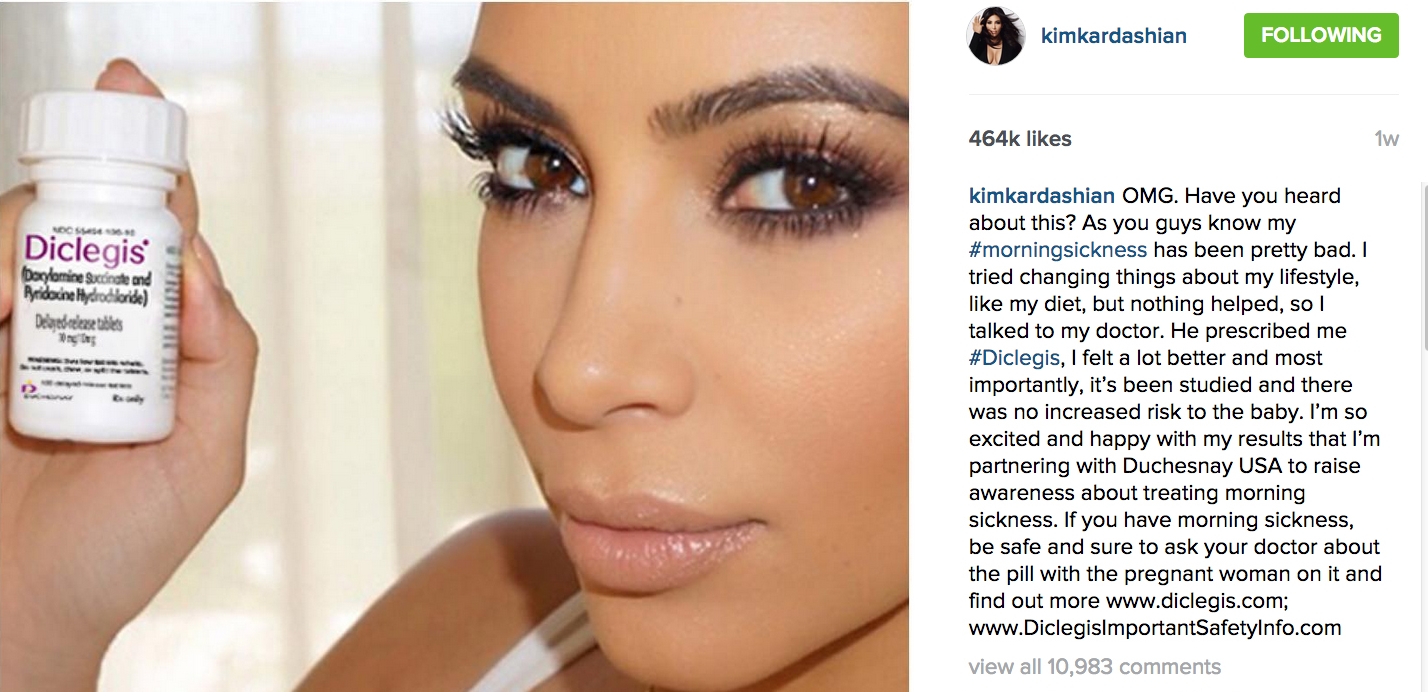 "OMG. Have you heard about this?" You'd be hard-pressed to find anybody in healthcare marketing who hasn't heard about Kim Kardashian West's July 19 Instagram post advocating morning-sickness pill Diclegis to her 46 million followers.
The only thing that could have matched Kardashian's foray into pharma marketing was a second, "corrective" post on August 30 for the same drug—to repair the damage after a warning letter from the FDA telling Duchesnay, Diclegis's manufacturer, that the promotion was "false and misleading" by omitting the drug's risks.
The incident raises questions about the advertiser's motives, the teeth behind the FDA warnings and the limits when an advertiser tries to make amends.
Duchesnay "took a risk by having Kardashian West promote the product without safety information," said Matt Brown, CEO of Guidemark Health. "Their brand awareness increased significantly. The concept of 'bad publicity is good publicity' was definitely embraced here."
Warning letters, like the one Duchesnay received about Kardashian's post, are an important deterrent against illegal promotion of drugs. They are expected to help protect consumers against promotion that overstates what a drug is capable of treating, or one that omits a drug's risks and side effects. Corrective ads are also considered one of the most severe penalties to be imposed on an advertiser.
But are those warnings—and the corrective ads they spur—enough to ensure marketers get it right the first time?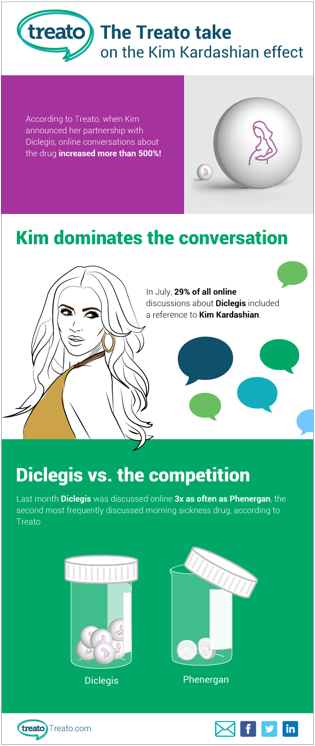 What isn't up for debate is the effect that Kardashian's two posts have had on brand awareness of Diclegis. Online conversations around the drug increased by 500% after she became the brand's spokesperson, according to data-mining firm Treato, which also found in July that 29% of all online conversations around Diclegis mentioned Kardashian and that the drug was discussed three times more than its competitor, Phenergan.
A number of media outlets have reported that Kardashian charges $10,000 per social media post. A one-time payment of $10,000 for a month of near non-stop online chatter around a brand is the kind of ROI most marketers dream of. While her first post greatly increased the brand's notoriety, the warning letter opened the proverbial floodgates to even greater media scrutiny.
In that way, you could conjecture that Duchesnay benefited not only from the original post but also the second corrective post, which was posted while Kardashian attended the MTV Music Video Awards. Part of the reason the overall campaign was considered so successful was that the drugmaker tapped one of the most followed celebrities on social media as its spokesperson.
Duchesnay did not respond to a request for comments by press time.
Even if those benefits may seem apparent, the idea that a drugmaker would intentionally flout FDA regulations—and potentially jeopardize a celebrity's reputation in the process—to achieve that kind of ROI is unlikely to become a new trend in healthcare marketing, said Dale Cooke, a pharma social-media consultant and president of PhillyCooke Consulting.
"Getting a letter is not something a company takes lightly," he said. "FDA has a long institutional memory and the long-term relationship damage done by becoming known as a company that is intentionally ignoring the rules will usually outweigh any short-term benefit that comes from publicity."
Cooke, who is often critical of the FDA's guidance on short-character promotions, like Twitter, described the post as "clearly violative. It was a no-brainer for anyone who understands FDA regulation of promotional communications.
"And, as the follow-up corrective messaging—which used exactly the same platform—made clear, it was possible to produce a compliant message in that venue," he added.
A compliant message means adhering to the FDA's rules about character space limitations, which mandate that each post includes the generic name of the drug, a non-misleading indication statement, contraindications and abbreviated risk statement. The FDA's guidance has been criticized for being too onerous—with marketers saying there is insufficient space online to include all the necessary risk and benefit information.
The FDA's Office of Prescription Drug Promotion recently conducted a study to investigate whether corrective ads are effective in correcting a viewer's perception of a brand. The agency's researchers concluded that overall corrective ads are effective, but with an important caveat. It's more difficult to correct an ad that fails to mention a drug's risks.
"Some ads are easier to correct than others," said Sarah Peddicord, a spokesperson for the FDA. "If there's an ad that has an overstatement of efficacy, the research showed that was easier to correct. If it was omission of risk it was harder to correct."
Kardashian's promotion would likely fall into that harder-to-address category, as it only posted a link to risk information rather than spelling it out in the same post, a requirement the FDA refers to as "fair balance," which means a drug's benefit and risk information should be given equal time and space in a given post.
Researchers didn't come to any definitive conclusion as to why correcting the absence of risk information proves more difficult than the overstatement of benefits. The study was published in the Journal of Communication in June.
It could be that most customers don't pay attention to the litany of side effects rattled off in most drug ads to begin with, Brown said.
"The reason that ads, which omit risks, have a stronger impact on perception versus corrective ads is because they are the first ads introduced to a consumer audience, which strongly promote a product's benefits," Brown added. "With such a small percentage of consumers reading risk information, corrective ads are unsuccessful in changing perceptions of drugs."
This story was updated Sept. 17.
Scroll down to see the next article