May 01, 2014
At Work With: Jen Jonsson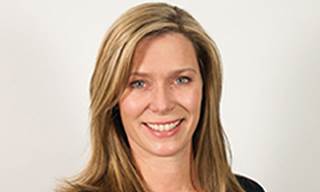 JEN JONSSON
Director, Operations, Cambridge BioMarketing
What was your biggest break?
I was given an opportunity to lead a digital project that had never been done before. I was running it solo, dealing with people way above my pay grade at the time, and the project was a major success.

What's the best and/or worst part of your job?
Best: Working with our teams to come up with the best possible solutions for our clients. Connecting patients with rare diseases with life-saving therapies is pretty rewarding.

What's the view like from your office/work area?
I can see the Charles River and the Boston skyline. Love it.

Where did you go to college? Did it help you prepare for your career?
I graduated from The New School. My first job out of school was as an intern for the cover art editor of The New Yorker. I would not be in advertising/marketing today if it weren't for that internship.

What was your greatest professional challenge?
I began in digital in the late 90's. It was the early days and there was a lot to learn!

Where will you be in five years?
Continuing to work with people who inspire me, here at CB.
Scroll down to see the next article