May 01, 2013
At Work With: Kathy Delaney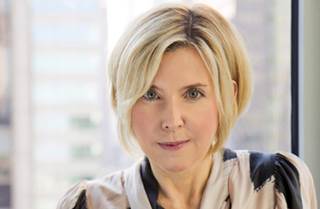 Kathy Delaney
Global chief creative officer, Saatchi & Saatchi Wellness
What was your biggest break?
It started with my portfolio being chosen as one of eight creative trainees at a big agency while I was working full time and going to the School of Visual Arts at night.
What's the best and/or worst part of your job?
I love helping clients recognize what their brands can be and how they can create stories that will live and resonate in consumers' psyches.
Who is the person you admire most in your area of work?
I love my Creative Department here and have never worked with people who are so amazingly talented.
What's the view like from your office/work area?
I am truly blessed to have one of the best views anywhere in New York City.
Does your office have a favorite lunch and/or after-hours place?
My office is big on bringing in their own lunches.
Where will you be in five years?
Five years out is a long way off. I prefer to create milestones closer to whatever it is I am currently doing.
If you were to write a book, what would the title be?
Blood, Sweat and Louboutins.
Scroll down to see the next article