October 01, 2014
At Work With: Meredith Mae Roberts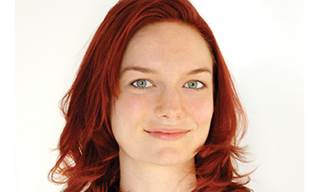 Meredith Mae Roberts
Senior Copywriter, HCB Health
What was your biggest break?
During college, I worked at the front desk of a gym. One day, a member noticed me studying and asked about my goals; I told her I wanted to work in advertising. A week later, she offered me a job at her marketing company.
What's the best and worst part of your job?
Best: I get to wear a lot of hats—free-thinking creative, analytical researcher, passionate writer, strategic marketer, compassionate human being, beret. Worst: Occasionally I forget to take the hat off. No one wants to watch a nut in a beret wax poetic.
What are your hobbies outside of the office?
Believe it or not, I'm a comedian. I perform sketch, improv and standup comedy at venues all over Austin. I love injecting humor into my concepting work when appropriate. Bringing levity into the office helps balance out the often-serious nature of our work.
Where will you be in five years?
Hopefully in scrubs and a mask (do they make sterile berets?), learning how to tell the story of some new and fascinating medical marvel.
Scroll down to see the next article