November 30, 2012
MAHF shares its wisdom with young execs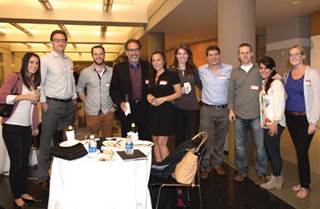 In February of this year, the Medical Advertising Hall of Fame started Future Famers to help some of the newer, and more promising, members of the agency world. This year they took the idea a step further with "Young Executives' Night Out," an informative seminar on how to grow in the business.
Topics of the night, chosen by young executives and presented by industry leaders, ranged from "Client Problem Solving" to "The Art of the Headline." David Chapman, partner of Ogilvy CommonHealth Worldwide and Charlene Prounis, CEO of Flashpoint Medica, started things off with a reminder for the audience to stay curious throughout their careers.
Following their presentation, MAHF inductees Joe Torre from McCann, Steve Girgenti of Healthworld, and Harry Sweeny of Dorland Sweeney offered some hard-won advice to the crowd. They talked about how small the agency world can be—and the importance of relationships therein.
After discussions, attendees took to workshops. Many of the informative sessions were shaped to give participants an idea of how other facets of the agency worked. One future famer noted, "As a creative, it was great to learn more about the account side of things. [It] makes me appreciate the teamwork so much more."
As the event wound down, future famers spoke to what they learned and shared some of their experiences. One presenter, Robin Shaprio of CAHG, had this to say about the event: "MAHF is going beyond just celebrating the past; they're investing in the future. The new emphasis on education, particularly the goal of educating the next generation of leaders, is very exciting."
Scroll down to see the next article