August 01, 2013
People Moves: August 2013
MANUFACTURER
EnVivo Pharmaceuticals, has announced the appointment of Deborah Dunsire, M.D., as president and chief executive officer. Dunsire also joined the company's board of directors. Dr. Dunsire, formerly president and chief executive officer of Millennium: The Takeda Oncology Company, brings more than 25 years of scientific, clinical, operational and commercial experience, and leadership in the biological and pharmaceutical industry.
Mylan Laboratories hired Roger Graham to be the president of Mylan Specialty. Graham joins Mylan from Advandx, a private developer of in-vitro diagnostic tests in the infectious disease space. He served as the company's chief commercial officer and developed its growth strategy for the U.S. and European markets. Earlier, Graham worked at Ortho McNeil, a division of Johnson & Johnson (J&J), where he was vice president of the company's anti-infective, analgesia and urology franchise, and its primary care and hospital sales and marketing associates.
Allergan has appointed Douglas S. Ingram as president. In this newly established role, Mr. Ingram will report directly to CEO David Pyott and will lead the company's global commercial operations, with responsibility for the company's broad portfolio of pharmaceutical, consumer and medical device products. For the past three years, Mr. Ingram has served as executive vice president and president, Europe, Africa and Middle East (EAME). In this role, he was responsible for Allergan's regional pharmaceutical and medical device operations, with a focus on strategic planning, sales and marketing, development and general management.
AGENCY
Fingerpaint Marketing has added Lisette Rayher (pictured) and Michael Cassidy to its staff. Rayher joins Fingerpaint's finance team from LeverPoint Management where she served as an accountant in charge of general ledger accounts, preparation of financial statements and client billing. Prior to LeverPoint Management, Rayher was a staff accountant at Marshall & Sterling Upstate, Inc., where she was responsible for accounting support for branches across New York State. Cassidy comes on board at Fingerpaint's studio after spending five years as prepress technician at Walter Snyder Printing and six years as prepress manager and prepress technician at Tech Valley Printing. Over the course of his prepress career, Cassidy was responsible for quality control and has become an expert at publishing and imaging software.
AbelsonTaylor has promoted Caitlin K. Fitzgibbons and Lani Chevlin to senior account executive, and Jodi Meyer to senior print production manager. Fitzgibbons, promoted from account executive, has worked on therapeutic categories targeting both consumer and professional audiences. In her new position, she will be working on a product for the treatment of rheumatoid arthritis, managing both print and digital materials for healthcare professional (HCP) audiences.. Since joining AbelsonTaylor in 2009, Fitzgibbons has focused her efforts on a product for the treatment of gastroesophageal reflux disease (GERD). During her tenure at the agency, she has developed print and digital pieces for sales reps, in-office programs, convention tactics, as well as helped launch a new HCP CRM program. Chevlin, who joined AbelsonTaylor in 2009 after graduation from college, has experience in both consumer and professional marketing. Previously account executive, she has managed accounts in the areas of nutrition and diabetes. Meyer will be working on products in the areas of nutrition, diabetes, wound care, pediatric and respiratory distress. Promoted from her previous position as print production manager, she will report to Kelly Brunick, manager of print production. Before joining AbelsonTaylor in 2010, she spent four years as advertising manager at Schawk Retail Marketing (formerly Ambrosi), Chicago, where she managed the day-to-day advertising operations for Bloomingdale's, Lord and Taylor, Sears, Kmart, Fannie Mae Candies, DirecTV and Home Depot. Previously, she was print production/traffic manager for Gams Communications, where she handled Cingular Wireless, DoubleTree Hotels, McCormick Distilling, VW, and the Chicago Midwest Beauty Show, among other accounts.
PARTNERS+simons announced three hires. Andrew Pelosi joins as EVP of account management. Through his oversight of the Account Management practice, PARTNERS+simons will ensure their practitioners provide clients with strategic leadership and vision. Pelosi has held senior roles at Hill Holliday, Mullen and Bronner Slosberg Humphrey (now Digitas), working with industry-leading brands such as Bank of America, Merrill Lynch, U.S. Trust, General Motors, HSBC, AT&T, IBM, Major League Baseball, FedEx, and Lever Brothers. Amy Quigley joins as chief marketing officer. In this role she will support the company's business growth. Previously, Amy was vice president, marketing at iProspect and vice president, global marketing at Continuum. Margaret Royston joins as senior director of digital and creative services. Royston has 20 years of experience partnering with business leaders and department managers in building positive and successful teams with effective collaboration and communication. Most recently she served as General Manager at Toth + Co, an integrated marketing agency for fashion and lifestyle brands.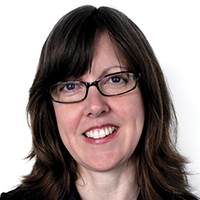 IOMEDIA recently made two new hires: Brian Stevens as director of digital strategy and Cena Crane (pictured) as director of user experience. Prior to joining IOMEDIA, Brian spent five years at Forest Laboratories as part of their Digital Marketing team, where his experience included therapeutic areas such as depression, fibromyalgia, COPD, Alzheimer's disease, and high blood pressure. Crane comes to IOMEDIA with experience leading design at internet start-ups, advertising agencies (including R/GA), and online content publishers (including the initial site launches for NBA.com, Nascar.com, and ABCNews.com). Cena was also on the Internet Communications team at McKinsey and Company, and most recently Creative Director for Indaba Music.
Brandkarma has expanded its account service, new business, interactive, and creative teams. New additions include Mitch Nini and Kat Leaver, Ph.D. as copy supervisors. Nini and Leaver will contribute to the strategic development process, collaborate with designers, and craft copy for Brandkarma's clients. The agency has also brought on Wendy Wittkofski as editorial supervisor. Wittkofski is responsible for leading the editorial team, providing quality assurance at every stage of the editorial process. The agency also announced the addition of David Cho, senior art director, who has worked on consumer campaigns from Taco Bell to Kawasaki, while Jeff Werner joins the agency as interactive art director. Werner's experience includes creating user experiences and interface design for mobile web applications and creative design for a wide range of digital programs. Brandkarma has also hired Nisha Shah, media planner, to handle DTC planning and buying for Axona®, a medical food that enhances memory and cognition in Alzheimer's disease. In addition, the agency has hired Neil Horowitz as social media marketing analyst, where he works with the interactive team to develop strategies to increase Brandkarma's clients' and the agency's internal social media and online presence, analyzing data to optimize content, and keeping an active social media presence. The new business team has also obtained a new addition. Ashley Smith has joined as business development specialist, a role in which she provides direct marketing and business development support to the company's senior vice president of medical and brand strategy, Devon Malecki, MD, MBA. The agency has also promoted within, giving Mandy Graziani the title of media director. Graziani has been with the agency for over four years. She will take a leading role in strategy development. In addition, Sandi Gruehl has been promoted to associate editor where she is responsible for ensuring agency materials (both print and digital) meet editorial guidelines for accuracy and consistency.
MEDIA
PRI Healthcare Solutions has promoted Debbie Walsh to program manager. Debbie joined HMI as an associate program manager with Haymarket Medical in 2007. In January 2012, she moved over to PRIHCS as an associate program manager on to work on Product Theaters for their respiratory business.
---
For full coverage of MM&M's recent People Moves, visit www.mmm-online.com
Scroll down to see the next article