November 01, 2012
People Moves: November 2012
MANUFACTURER
Astellas US recently named
J. Patrick McCauley, Jr
., a longtime pharmaceutical industry veteran and Astellas employee, to the post of Regional Compliance Officer of the Americas, based in the company's new Northbrook, Ill., headquarters. His responsibilities include managing and overseeing the compliance function in the United States, Canada and Latin America. McCauley also will serve on the company's Global Compliance Committee.
Sanofi is pleased to announce today the appointment of Dr. Paul Chew, senior vice president, chief medical officer and head of global medical affairs. Dr. Chew, currently senior vice president, chief science officer and chief medical officer at Sanofi US, will succeed Jean-Pierre Lehner, who will retire on December 31, after more than 20 years with the company. Dr. Chew will report to Dr. Elias Zerhouni, president, global research and development and will be based in Bridgewater, NJ and Paris.
Reckitt Benckiser recently named
Tiffany McLaud
to the position of consumer healthcare marketing director. McLaud joins RB from Pfizer Consumer Healthcare, where she held a number of senior positions, most recently as senior director of U.S. dietary supplements.
AGENCY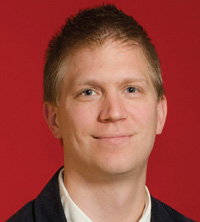 Ogilvy CommonHealth Worldwide announced the promotion of five employees and added two to it's roster. Matt Balogh (pictured above) has been promoted from vice president, director of technology, to senior vice president, director of technology. Mr. Balogh's new responsibilities include overseeing all of the interactive development and quality assurance teams. He will also continue to work closely with his assigned clients to deliver digital marketing strategies for their brands. Kathie Marshall, an employee of Ogilvy CommonHealth Interactive Marketing for nearly six years, has advanced from vice president, associate director of project management, to senior vice president, director of project management. In this new role, she will contribute to new business development initiatives and supervise her team of project managers. Nelson Figueiredo has been elevated from associate interactive development manager to vice president, associate director of technology. Mr. Figueiredo's new position entails analyzing client business needs and forming innovative solutions and digital strategies for their brands. Additionally, he will manage all development projects for his designated accounts. Max Divak has been promoted from associate interactive development manager to interactive development manager. His new responsibilities include mentoring the development team, brainstorming and estimating project scopes, as well as the deployment of assets for his assigned brands. The agency has also promoted Jill Lesiak to vice president, creative director. In her new role, Jill will continue to creatively and strategically support her assigned accounts, oversee copy output from her creative team and lead promotional launch initiatives for a variety of therapeutic categories. Richa Tiwari has advanced from medical writer to senior medical writer. Ms. Tiwari will be developing scientific and medical content for medical education publications and conferences. Michael Koch has been promoted from senior account executive to account supervisor. Mr. Koch will manage the day-to-day project activities and lead brand and strategic plans for his assigned accounts. Craig Robel has been elevated from financial systems analyst to senior financial systems analyst for the organization Mr. Robel will be responsible for streamlining various accounting processes and overseeing the creation and maintenance of financial reports for the organization. Ogivly CommonHealth has also brought on the following new hires. Robert Egert enters Ogilvy CommonHealth Interactive Marketing as a senior vice president, managing director. Michael Price comes to Ogilvy CommonHealth Medical Marketing as vice president, account group supervisors.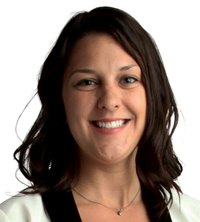 AbelsonTaylor has promoted three in account services. Kathy McCracken has been promoted to senior account executive. Barbara N. Seigfreid (pictured above) and Christina Mirro have been elevated to account executive. McCracken will work on a product for the treatment of Hepatitis C. She will report to Eric Densmore, account director. Since joining AbelsonTaylor in 2011, Seig­freid has worked on a number of product launches and in a wide array of therapeutic categories, including psoriasis, rheumatoid arthritis, insomnia, oncology and hematology. Mirro previously worked at Aerotek, an international staffing firm, in Schaumburg, Ill., where she was a commercial recruiter. The agency also promoted Mary Clare Mooney and Samantha Hickey to account executive.
The Navicor Group has hired Greg Niemcyzk as senior vice president, director of client services. In his new role, Niemcyzk will oversee agency teams and provide strategic guidance for several of the agency's top accounts. He will also develop and lead client service solutions for the entire agency. Prior to joining Navicor, Niemczyk served as Vice President, Account Director at AbelsonTaylor, where he was responsible for developing new business opportunities and directing the creation of integrated multi-channel communications campaigns.
ICC Lowe has appointed Matt Brown to the role of general manager (see "Upward Move"). Brown is the former president of Ignite Health, a healthcare marketing agency in California with a large focus on digital platforms, as well as professional and consumer communications. Brown also takes the helm of ICC Lowe's emerging technology and medical device division, Redshift. The agency also announced the ­following changes to executive management. Margaret Anne Ingram becomes General Manager of ICC Lowe Pace. Renee Wills has been elevated from General Manager to President of ICC Lowe Trio. Dr. Stacy Patterson, formerly the EVP, Director Medical Affairs and Education of the flagship office, has been elevated to the role of Chief Medical Officer for all of ICC Lowe. Paul O'Neill, who was formerly the president of ICC Lowe's flagship office, has been elevated to the new role of Chief Growth Officer and is tasked with fueling growth with new clients, new services, and new geographies.
Paul Gondek has joined CMI to expand the company's Healthcare Solutions practice to support healthcare, pharmaceutical, and medical device companies. As vice president client solutions and healthcare lead, Gondek will further enhance the pharmaceutical team, using analytics and immersive techniques to provide strategic insights that brand teams can use. Prior to joining CMI, Gondek spent five years in senior client service positions at two different healthcare-focused market research and consulting agencies, and 15 years as President of his own market research and consulting company.
Topin & Associates has added two project managers: Heather Chenery as senior project manager and Brianna Anderson as project manager. As senior project manager, Chenery will be overseeing the day-to-day initiatives for clients Mission Pharmacal, Myriad Genetics and Vetter. The agency also brought on Justin Smith as web developer. Prior to joining Topin & Associates, Smith worked for several companies in the Chicagoland area including Star Events, an event production company that has spent more than a decade developing events in and around Chicago.
TheCementBloc announced Robert Roth as group account director, Michael Stolper as account director, and Rachel Mansfield as account manager. The agency also brought on the following in their intelligence and analytics team: Katarina Hellstrom, vice president, account planner, Darryl McNeil as director of analytics and operations, Jon-Eric Waddell as senior analyst and Hui Tang as research analyst. For their multichannel project management, the agency announced the following hires: Sanjay Gupta as associate director of multichannel project management, Annette Kosaka as senior multichannel project manager and Stephen Whelan as multichannel project manager. Lastly, for their creative team, the agency brought on Debora Shiokawa as associate creative director, William Ricchini as associate creative director for copy, Richard SanFilippo as group copy director, Michael McSwain as senior copywriter and Thu-Nhi Nguyen as senior art director.
DiD announced the hiring of Jessica Kernan as account director. Kernan worked previously with Digitas Health. Darren Taylor was brought on as creative director. Jason Slomach was appointed the role of associate creative director. Steve Chiles was appointed as director, strategy.
Advanced Clinical named Susan Paulson, Ph. D., executive director, clinical pharmacology and nonclinical development. Dr. Paulson most recently ran her own consultancy, Paulson PK Consulting.
Agencies of Change, holding company for MEplusYOU, imc2 health & wellness and Technology Spa, has named Amber Benson as vice president, innovation and development. Prior to Agencies of Change, Benson founded Seamripper, a marketing consultancy focused on ideation and go-to-market strategies for early-stage companies and healthcare and retail brands. She also served as vice president, marketing for CLAD, an e-commerce business unit of JC Penney, Inc., and in leadership for imc" health & wellness, Targetbase and Cadient Group.
MEDIA
John Kritzmacher joins WebMD as senior vice president, business operations, organizational planning and structure. Prior to joining WebMD, John was executive vice president and chief financial officer of Global Crossing until its acquisition by Level 3 Communications. Before working at Global Crossing, he was Chief Operating Officer, Services for Alcatel-Lucent.
Enno Müller
has been appointed managing director of AFP in Germany. Müller will report to Florence Biedermann, regional director Europe-Africa. In his new position, he will be in charge of both AFP GmbH and SID, a wholly-owned subsidiary of Agence France-Presse, and will be responsible for coordinating the activities of the subsidiaries with AFP's Berlin bureau, which covers German news for its global network. Müller is a management graduate from the University of Göttingen and holds a PhD in economics. He joined the RTL Group in 1991, then its multimedia subsidiary in 1994 as CFO and vice-president. In 1999, he founded EconoMedia Informationsdienste, a provider of consumer reviews and data, before taking charge of the e-learning company Digital Spirit in 2009.
Scroll down to see the next article