January 01, 2014
Upward Move: Jeff Winton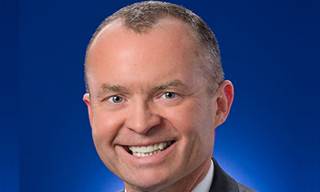 The typical career arc in pharma marketing often includes a stint "carrying the bag," and a few years on the agency side. A more unconventional route, however, may include growing up on a farm, studying animal science and pursuing a degree in theology. But for Jeff Winton, Astellas's newly appointed SVP and chief communications officer, that extraordinary path to the C-Suite has been a rewarding one.
"While all my friends were all going back for MBAs, I decided I was going to do something totally different," he recalls, "I was always very interested in world religion. I think back to that program—it made me a better manager. A lot of it was about understanding the human condition. That's what managers deal with every day."
That understanding would follow him into public affairs, and his beginning in pharma.
"My very first job in this industry was in patient advocacy for Hoffmann-La Roche as an HIV/AIDS advocate in the early days of the pandemic. Needless to say, it was a very interesting time to enter the pharma industry," he says, "And it was one of the most satisfying jobs I've ever had. "
Now, Winton finds himself in a position that hitherto had not existed at Astellas.
"It's a brand new role," he affirms, "But my responsibilities here are a matter of building on a lot of good work that's already been done. We are looking to further integrate with other parts of the organization—particularly advocacy—and formalize the ways in which we work together."
Outside of his hopes for how the organization will "work together," Winton's beginnings inform his view on how the the industry should act.
"I'm the first person in my family to go to college. My dad was a farmer and drove a schoolbus. Hard-working blue collar people treat others with respect," he says, "You have to treat others with respect. Regardless of whether they can do something for you or not. You never know who is going to end up where."
Scroll down to see the next article