October 10, 2012
2012 MM&M Awards winners spotlighted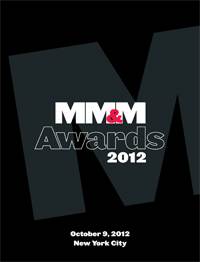 Victory went to the big network-owned agencies for multichannel marketing prowess, while independent shops shared the spotlight, especially in newer media, at the MM&M Awards 2012.
Digitas Health, part of Publicis Healthcare Communications Group (PHCG), took top honors in the Best Consumer Print Campaign category for its "Me and My Depression" effort for Bristol-Myers Squibb/ Otsuka's Abilify antidepressant, while its "Own It" campaign for Shire bested all other entrants in two categories—Best TV Advertising Campaign, and in a category recognizing standout use of different media, Best Multichannel Campaign (Small Clients).
Digitas Health's three Gold Awards, in addition to two second-place finishes in other categories, earned it the most time on the winners stand of any single agency during the 2012 Awards, attended by about 670 top healthcare marketing and communications execs and held at New York's elegant Cipriani 42nd St. the evening of October 9.
Among the network-owned shops, Omnicom agencies were the most decorated, with four Gold Awards: CAHG and Merck in Best Multichannel Campaign (Large Clients) for their RotaTeq vaccine effort; Harrison & Star and Genentech in Best Professional Print Campaign; and RAPP and Pfizer in both the Best Interactive Initiative for Consumers and Best Use of Public Relations categories. Among other gold awardees were IPG's Area23, inVentiv Health's GSW Wordwide, Havas' Havas Life 4D, and WPP's Ogilvy CommonHealth Worldwide.
Independents also had a strong showing. Stalwart AbelsonTaylor—nominated in six categories—pulled in a Gold Award for Best Over-the-Counter Product Campaign (for Abbott's Ensure High Protein) and a Silver Award for Best Professional Sales Aid (for Sunovion's schizophrenia drug Latuda). Indies making it to the podium also included Siren Interactive and InTouch Solutions, clinching gold for Best Disease/Education Website and Best Use of Social Media, respectively.
The MM&M Awards recognize and champion both creativity and effectiveness in healthcare marketing and communications in healthcare across 24 categories, as determined by an independent panel of judges representing all sectors of the industry. To find out more about all of this year's winners,
click here
.:
Scroll down to see the next article