January 07, 2014
2014 shaping up to be bridge year for Lilly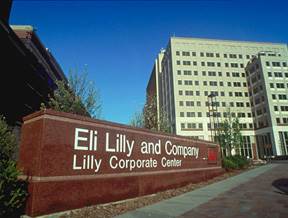 Eli Lilly confirmed that 2014 will be a roughly $20-billion revenue year—though it may be through a skin-of-its-teeth scenario.
"We expect 2014 to be the most financially challenging year of Lilly's current patent expirations," CFO Derica Rice said in a statement, noting that the company is just beginning to come to grips with a patent-free Cymbalta landscape—the depression drug went off-patent in December—while also preparing for the osteoporosis med Evista's slide from protected IP to generic free-for-all in March.
The company pegged revenues as between $19.2 billion and $19.8 billion, vs. consensus, which Bernstein analyst Tim Anderson wrote in a Jan. 7 research note is between $19.5 billion and $19.8 billion.
Despite the immediate pain, Rice said the company is "positioned to return to growth and expand margins in 2015 and beyond."
The company has previously said that its drive to the $20-billion mark will likely take a bit of grit, along the lines of finding efficiencies. Anderson wrote Tuesday that Lilly and investors knew 2014 was going to be a rough patch, but he, like Leerink Swann's Seamus Fernandez, sees reasons to keep the company in mind because the Indianapolis, IN, drugmaker "will be a very catalyst-laden story" in 2014.
Cutting R&D by around $1 billion is among the efforts Lilly's using to close in on this year's earnings target. The company said the drawdown is because its mature Phase III pipeline and near-mature products need less investment.
Scroll down to see the next article