January 04, 2012
A targeted mobile effort for a thermometer shadows the flu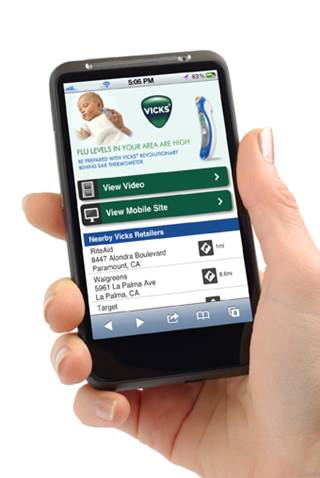 Mobile campaigns are getting increasingly targeted through layering of identifiers like location, age and gender. An effort for a new thermometer serves ads only to expecting moms and those with children under five within two miles of a store selling the device and only when influenza is running rampant where they live.

The thermometer, a first-of-its-kind behind-the-ear number, bears the Vicks brand, though it's manufactured by Kaz, a subsidiary of personal care conglomerate Helen of Troy. The skin in the hollow behind the ear is an ideal place to get a temperature reading, says Kaz – the carotid artery runs underneath the spot, carrying blood to the brain, and it's protected from common glitch factors like wind and perspiration. The appeal to parents, especially those with squirmy babies and toddlers, is obvious. Compared to other types of thermometers – oral, rectal, even those designed for foreheads and armpits – it's non-invasive. It's not cheap, though, retailing at the upper end of the price range for thermometers -- between $35 and $55.

Kaz, which manufactures humidifiers as well as Braun- and Vicks-branded thermometers, hasn't done much in the way of marketing and advertising in the past, but the Behind Ear Thermometer clearly called for education. The company is running print ads in parent mags, bearing the tagline "One Touch. One Second. One Confident Mom." Video ads are showing in pediatricians' offices, banner ads online, a coupon program is in place and packaging bears QR codes.

To reach moms at a decisive moment and within steps of a retailer, the firm's agency, Northbrook, IL-based Blue Chip Marketing Worldwide, employed mobile ad network WHERE's location- and demographic-based tech and tied that into Google's flu index, so that ads are served only to women that fit the profile and who are near a retailer when flu cases in their local area are in the moderate-to-severe range. They see an in-app banner ad reading "FLU LEVELS IN YOUR AREA ARE HIGH. Be prepared with Vicks' revolutionary Behind Ear Thermometer," and "buy at Target .2 miles away." Clicking on the banner takes them to a landing page with a store finder, video and mobile site.

"Because the criteria is so strong as to who gets the ad, the quality of clicks is really high," said Sarah Van Heirseele, VP of digital at Blue Chip. "The target is so niche they're prequalified, and she's ready to take action."

The campaign, said Van Heirseele, will peak toward the end of February and the beginning of March, in tandem with flu season – as will sales.
Scroll down to see the next article